08 May 2015
PhD student Jocelyn Yi-Hsuan Lai wins Young Scholar Award
Congratulations to PhD student Jocelyn Yi-Hsuan Lai, who was awarded joint first place in the fifth Young Scholar Award from the European Association of Taiwan Studies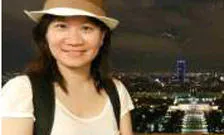 Jocelyn Yi-Hsuan Lai
Congratulations to PhD student Jocelyn Yi-Hsuan Lai, who was awarded joint first place in the fifth Young Scholar Award from the European Association of Taiwan Studies. 
Her award winning essay, Imaging Taiwanese in East Asia: The Taiwanese inter-Asian idol dramas in the twenty-first century, was given to the association's annual conference held in Kraków, Poland and was based on her doctoral research here at King's. 
Jocelyn has also published an essay about Taiwanese television, state policy and its interaction with TV in the People's Republic of China in the journal Mass Communication Research (in Chinese). Her PhD supervisor is CMCI's Asian cultural policy specialist, Dr Hye-Kung Lee.
In this story