27 February 2019
Physics student wins Thomas Young Centre Poster Prize
PhD physics student Bethan Cornell has recently won the Thomas Young Centre Student Day poster prize. The Thomas Young Centre is a materials modelling centre for the theory and simulation of materials in London. They fund the supercomputer on which Bethan works.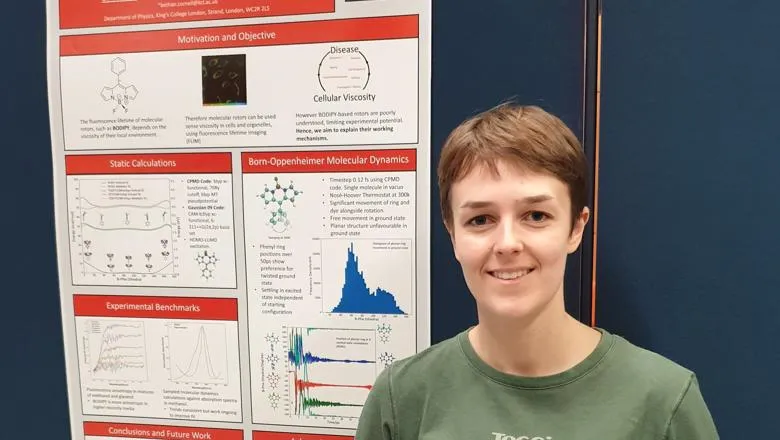 Bethan Cornell
Bethan studies a class of molecules in bio-imaging called 'fluorescent molecular rotors'. To try and find out how the molecules work, she performs quantum mechanical level simulations to see how they interact with their environment. This supports work, including that done by PhD student Emilie Steinmark, to measure cellular viscosity.
Bethan explained what inspires her to work in this area: 'I'm a Physicist by training but was always really keen to work in an area that I felt was 'giving back' some of the knowledge I have gained. Viscosity is linked to so many important areas of biology including, for example, cancer, diabetes and Alzheimer's disease. I love the fact that although I'm trained in a theoretical discipline, I can contribute to these fields and in my own little way help improve our understanding of big diseases'.
Bethan said: 'I'm so pleased that Emilie and I have been able to display the importance of better understanding molecular viscosity in the last few weeks. It's a really exciting time in our field and I'm so happy that my work is recognised to be contributing'.
In the next few months Bethan will be showing her work at a conference on computational molecular science in Warwick and then she will be attending a school in Switzerland to learn more techniques. She also hopes to publish the findings from her poster shortly.