14 March 2018
Policy Idol 2018 – the results are in!
War Studies student Nicolas Seidman was crowned the overall winner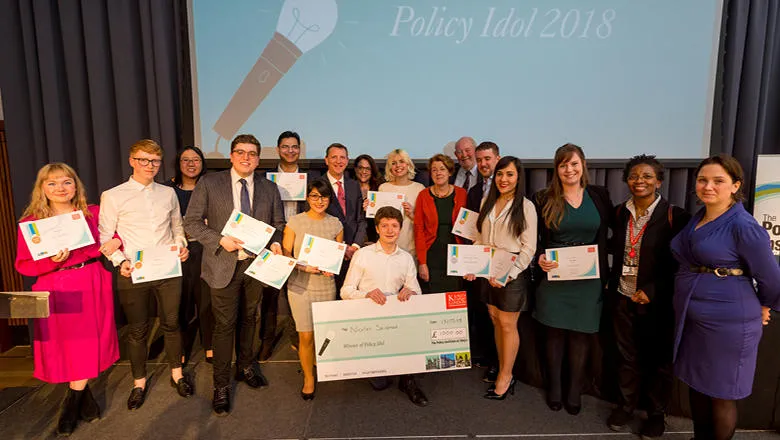 Policy Idol 2018
After an exciting evening of policy pitches, Nicolas Seidman, a third year War Studies BA student, has been crowned the overall winner of Policy Idol 2018.
Nicolas impressed with his three-minute policy pitch on using low-cost cameras to prevent humanitarian atrocities and remained calm in the face of tough questioning from the judges.
Now in its fourth year, Policy Idol is an annual competition open to all current students and staff at King's, in which participants pitch their policy ideas to a panel of leading figures from the worlds of politics, academia and industry. This year's grand final took place on Tuesday 13 March in the Great Hall, and was enthusiastically hosted by Mark Easton, Home Editor of BBC News.
Ross Hills, a fourth year dental student, picked up the prize for the pitch with the most substance. His pitch advocated water fluoridation. Ross not only impressed the judges but the audience, too, taking home the coveted Audience Prize.
Rebeca Ortega, a Public Policy and Management MSc student, picked up the prize for the pitch with the most style, focusing her presentation on electric energy provision in Paraguay.
Professor Jennifer Rubin, Chief Executive of the Economic and Social Research Council (ESRC) and Professor of Public Policy at King's, chaired the panel of judges, which included:
Polly Mackenzie, Director of Demos and former Director of Policy to the Deputy Prime Minister, 2010 – 2015
Baroness Sally Morgan, Chair of Future Leaders and former Chair of Ofsted
Professor 'Funmi Olonisakin, Vice-President (International) and Professor of Security, Leadership and Development at King's. 
Professor Rubin said:
"It was pleasure to be part of the judging panel and listen to the breadth of talent among staff and student at King's showcasing innovative policy ideas."
Former Home Secretary and Visiting Professor at the Policy Institute, Charles Clarke, presented the awards to the finalists. Mr Clarke highlighted the important role of initiatives like Policy Idol in helping to embed key communication skills and emphasising the importance of evidence in policymaking.  
Policy Idol is supported by the King's ESRC Impact Acceleration Account.
For further information on Policy Idol, please contact Emma Kinloch, Impact and Engagement Manager at the Policy Institute, on emma.kinloch@kcl.ac.uk.