08 December 2020
Policy Idol 2021 – share your idea for cash prizes and expert training
Applications are now open for Policy Idol 2021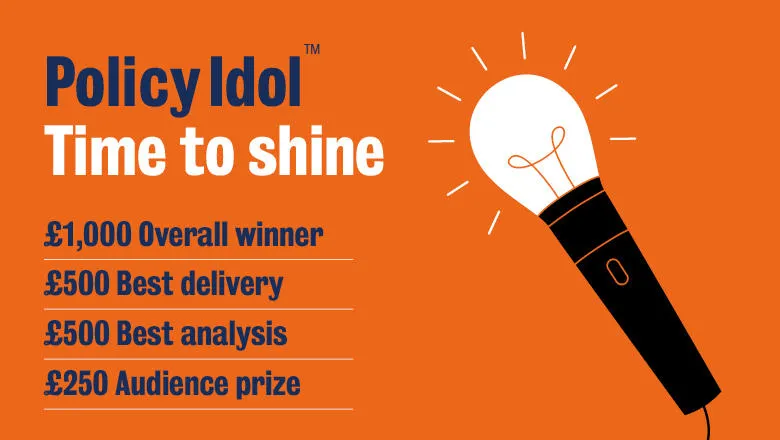 Have a new and innovative idea for our post-Covid society? Think you can sell it to a panel of experts?
Applications for Policy Idol 2021 are now open. Here's your chance to pitch a world-changing idea to leading figures from the worlds of politics, academia and industry to win one of four cash prizes up to £1,000. You have until Friday 5 February 2021 to apply.
Organised by the Policy Institute and now in its seventh year, Policy Idol is an annual competition open to all King's students, individually or as part of a team. 
This year's competition will be slightly different – we're holding it entirely online and using video submissions. 
The best ideas will be selected in a series of heats, with standout pitches from each put through to the final. All finalists receive bespoke training in policy analysis and communications, as well as an opportunity to improve their pitch.
During the final you'll present your three-minute video pitch to our experts, who will assess it on the quality of delivery and the underlying evidence and analysis.
There are four cash prizes of up to £1,000 on offer, including for the overall best pitch, pitch with the best substance, pitch delivered with the most style, and a prize voted on by the audience.
Policy Idol contestants have credited the skills they gained through the competition, including improved confidence, communications and analysis, with helping them succeed in their careers after King's.
Previous finalist Emilie Steinmark said: "It's been really good to talk to a personal coach within the Policy Institute. We looked through the areas of our pitch that could be improved and any gaps in our knowledge. It's been super valuable to have an expert on that."
Learn more abut the competition and explore previous winners on the Policy Idol website.