04 February 2020
Post-Brexit relationship the key topic as school plays host to military police
Brexit and the future military relationship between the UK and Germany were the topics of discussion at an event hosted by King's College London.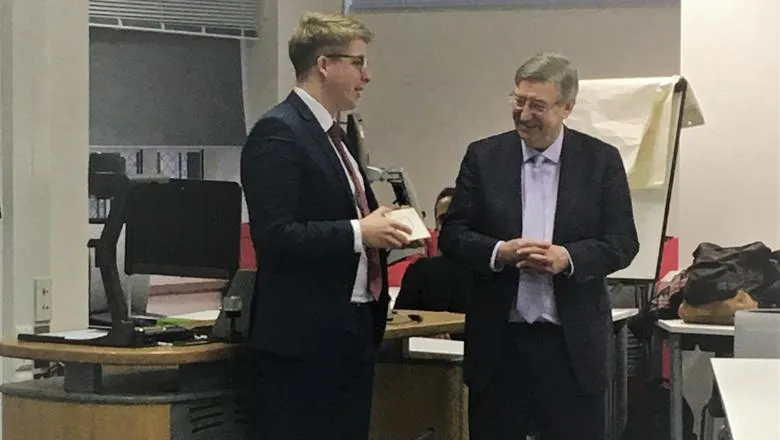 King's College London's Professor Jeremy Jennings, right, led the panel discussion.
The School of Politics and Economics welcomed a group of 37 officers from the Feldjäger - the German military police - to a panel event focussed on the armed forces and the impact of the UK's departure from the EU on the relationship between the two nations.
The event took place on 23 January and was led by Professor Jeremy Jennings, head of the School of Politics and Economics. Professor John Gearson, Dr Jan Honig, Professor Jonathan Portes, and Professor Adam Fagan featured on the panel, offering their insights and answering questions put by the audience.
Max Enders, who is studying philosophy, politics and economics (PPE) at King's, attended the event and described the discussion as "enlightening".
He said: "As a reserve officer of the German specialised mountain infantry myself, I was naturally very interested in the future relationship between the German and British armed forces after Brexit. "The discussion was thoroughly enlightening and the speakers did a really good job underlining the significance of what Prof Jennings called 'the biggest British foreign policy shift in a generation.'"
Max, who studies in the Department of Political Economy, added: "As a PPE student, it was a truly special event, since it powerfully demonstrated how national politics and international foreign policy are intricately connected and how even small policy areas such as intelligence sharing can have larger, international ramifications."
A panel of academics from King's College took questions from guests.
A spokesman for the military police said: "Our visit to King´s College was a gain of experience for all officers. We have to express our gratitude to all members of the discussion.
"Especially, we would thank student experience officer Chloe Humphreys for organising this event. All-in-all it was a very successful day with a lot of insider information from local people that broadened our minds."
In this story