12 March 2019
PRECISE Network meeting in Johannesburg
Department of Women and Children's Health at KCL hosts the GCRF funded PRECISE Network in Johannesburg, South Africa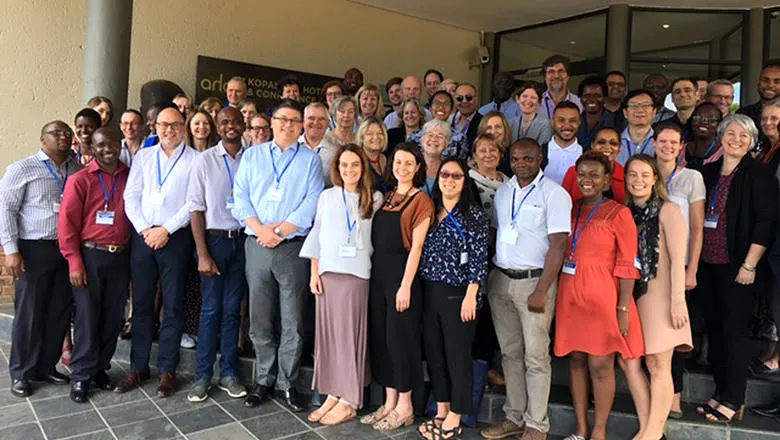 The Department of Women and Children's Health at KCL hosts the GCRF funded PRECISE Network; a global collaboration of women and children's health researchers with a focus on improving knowledge and understanding of placental disease in sub-Saharan Africa.                                         
Over 60 research and implementation partners from Mozambique, Kenya, The Gambia, Zimbabwe, Malawi, Canada and the UK met in South Africa between 3rd-5th February 2019, for the second meeting, to discuss progress and future plans for The Network. Plans include ambitious activity across a hugely broad spectrum of research; from work on the vaginal microbiome led by Professor Rachel Tribe; proteomic and metabolomic analysis of maternal bio-samples led by Professor Lucilla Poston; deepening understanding of the nutritional status of mothers and infants and how this affects health and development led by Dr Sophie Moore; study of the health system and how it relates to quality and respectful care led by Professor Jane Sandall; use of deep clinical phenotyping to understand the burden of hypertension; acute kidney injury and other maternal NCD's (Professors von Dadelszen, Magee, Chappell, Shennan, Bramham).

The Network includes colleagues from across KCL and beyond, fostering interdisciplinary relationships to look at the broader social and environmental exposures that contribute to the high burden of maternal and neonatal mortality and morbidity in SSA e.g. looking at maternal mental health with Dr Tatiana Salisbury (Institute of Psychiatry, Psychology & Neuroscience) and looking at the impacts of air quality on maternal and infant health and development with Drs Ben Barratt and Sean Beevers (Centre for Environment and Health).

It is a hugely exciting time for PRECISE and the 2nd Annual Meeting was a great opportunity to celebrate the successes so far and look ahead to develop plans for more research and collaboration opportunities.