19 November 2020
Professor Alex Türk appointed Interim Executive Dean of The Dickson Poon School of Law
Professor Alex Türk has been appointed Interim Executive Dean of The Dickson Poon School of Law, and will lead the law school for 12 months, following the retirement of Professor Gillian Douglas.
From January 2021, Professor Türk will work to ensure that The Dickson Poon School of Law continues to be regarded as a leading Faculty worldwide, supporting the delivery of excellent research and innovative education.
Professor Türk studied Law and History in Germany, obtaining an LLM from the prestigious College of Europe in Bruges, Belgium and a PhD from the University of London. He joined King's College London in October 1996 as German Law Lektor (DAAD) and was promoted to professor in 2010. Professor Türk has held important and increasingly senior management positions within The Dickson Poon School of Law, most recently as Vice-Dean (International and External Relations). He is also a member of the Centre of European Law, where he is Director of Programmes.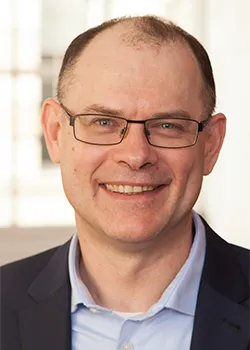 Professor Türk has published extensively on the Law of the European Union, but also has a keen interest in comparative Constitutional Law and the Law of the United States. He has shared his expertise with the House of Commons, leading international law firms, Austrian national radio, the Foreign, Commonwealth and Development Office and the European Institute of Public Administration.
Professor Türk takes over from a remarkable Dean who has done much to embed the School's success during her tenure.
The alumni community will continue to be a priority for the Interim Executive Dean, as it has been for Professor Douglas.