22 November 2017
Professor Ananya Kabir awarded 2017 Infosys Prize for Humanities
Professor Ananya Jahanara Kabir has received the prestigious 2017 Infosys Prize for Humanities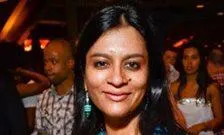 Professor Ananya Jahanara Kabir
Professor Ananya Jahanara Kabir (Professor of English Literature) has received the prestigious 2017 Infosys Prize for Humanities for her work on colonial modernity, particularly her insightful ethnography of cultural and political life in the Kashmir region.
The award was announced at a press conference in Bangalore and was presented to Professor Kabir by the Nobel Laureate Professor Amartya Sen, who headed the jury for the Humanities prize. The six overall winners were shortlisted from over 236 nominations by a scholarly jury panel, which compromised of renowned scientists and professors.
Awarded by the Infosys Science Foundation, The Infosys Prize endeavours to elevate the prestige of science and research in India and inspire young Indians to choose a vocation in research.
On winning the award, Professor Kabir said 'To be awarded the Infosys Prize for the Humanities is a very special honour, not least because of the eminence of the jury and previous laureates. I am proud to represent our ever-relevant discipline of the Humanities, which seeks to understand how human beings are social, unpredictable, emotional, creative, and aesthetic creatures and how this range of impulses shapes the ways in which we connect with each other as societies, polities, and individuals.
'In a declaredly 'post-truth' age, the knowledges produced by the Humanities are urgently required. Awards such as the Infosys Prize remind us of and validate that urgency, and I'm excited about the resources the Prize makes available to me to extend further my work and my vision.'
To find out more about the Infosys Prize, please visit the Infosys Science Foundation page.
In this story