21 March 2018
Professor Andrew Dorman presents at DIMDEX 2018 Middle East Conference
Professor Andrew Dorman presents at the Middle East Naval Commanders Conference DIMDEX conference in Qatar, hosted and organised by Qatar Armed Forces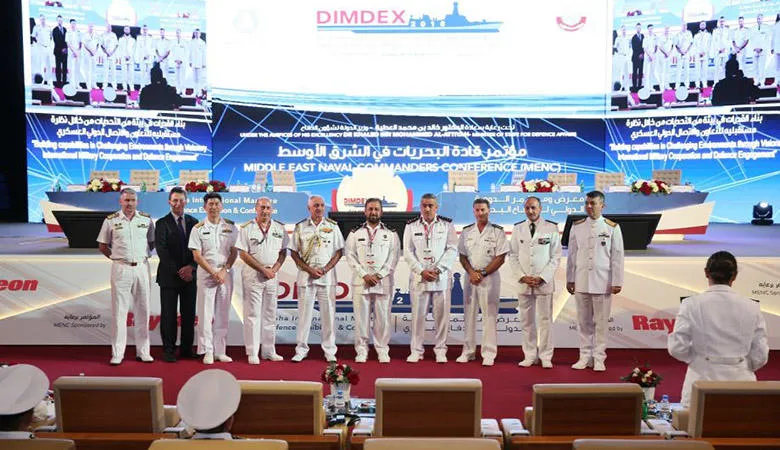 The 2018 DIMDEX conference
On 13 March 2018, The Doha International Maritime Defence Exhibition & Conference (DIMDEX 2018) hosted prominent naval defence commanders, thought-leaders and experts from different parts of the world, at the anticipated Middle East Naval Commanders Conference (MENC) titled "Building Capabilities in Challenging Environments through Visionary International Military Cooperation and Defence Engagement", under the auspices of H.E. Dr. Khaled bin Mohammed Al-Attiyah, Minister of State for Defence Affairs, and sponsored by Raytheon.
The conference, held during the second day of DIMDEX at the Qatar National Convention Centre, offered participating delegates the opportunity to discuss the importance of long-term strategic planning and potential methods of building military and defence capabilities across the Arabian Gulf, and the Arabian and Red Sea.
The conference saw the participation of nine navy commander speakers including Vice Admiral Valter Girardelli, Chief of Staff of the Italian Navy; Vice Admiral John C. Aquilino, Commander U.S. Naval Forces Central Command U.S. 5th Fleet and Combined Maritime Forces; Vice Admiral Girish Luthra, Commanding-In-Chief Western Naval Command; Staff Brigadier (Sea) Tariq al Obaidli, Head of the International Military Cooperation Authority; Professor  Andrew Dorman, Professor of International Security , Defence Studies Department at King's College London; Rear Admiral Didier Piaton, Commander of French Joint Forces in the Indian Ocean; Rear Admiral Roy Sakai, Director General of Operations and Plans Department; Rear Admiral Jaimie C. F. Hatcher, Commander joint Task Force 633; and Rear Admiral (LH) Yavuz Kilic, Head of Pland and Policy Department.
Professor Dorman presented on 'International Military Cooperation and Defence Engagement - a perspective from Academia'
Launching the conference, H.E. Major General Abdullah bin Hassan Al Sulaiti, Commander of the Qatar Emiri Naval Forces, said: "it is our honor to welcome you all to the Middle East Naval Commanders Conference (MENC), a platform that offers regional naval leaders the opportunity to exchange strategic international collaboration ideas that determines regional policy and procurement decisions in the maritime defence industry. We hope you enjoy touring exhibition over the next two days, and learn more about the latest security and maritime defence technologies and innovations from across the world."
About DIMDEX:
Doha International Maritime Defence Exhibition and Conference (DIMDEX) is held under the patronage of His Highness Sheikh Tamim bin Hamad Al-Thani, Emir of the State of Qatar and proudly hosted and organised by Qatar Armed Forces. DIMDEX 2018 marks the exhibition's 10th anniversary, offering participants 'A World-Class Platform for Technology, Maritime & Defence Industry Capabilities.' Since its inception, DIMDEX has witnessed continuous growth to become a leading event in the international maritime defence and security industry calendar. DIMDEX is much more than just an exhibition; the three-day event also features the international strategic Middle East Naval Commanders Conference (MENC), Visiting Warship Display from international naval forces, and elite VIP delegation visits.
In this story