18 November 2019
Professor Bashir M. Al-Hashimi to lead Natural & Mathematical Sciences
Professor Bashir M. Al-Hashimi CBE FREng has been appointed as the new Executive Dean of Faculty of Natural & Mathematical Sciences (NMS). He will take up his post from April 2020.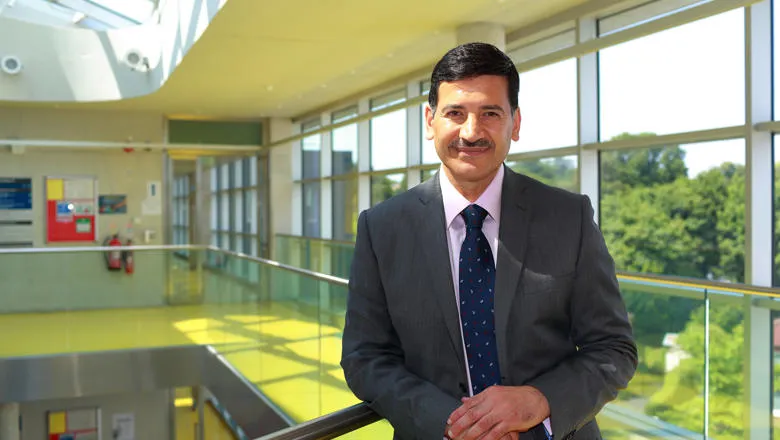 Professor Bashir M. Al-Hashimi
Professor Al-Hashimi is one of the world's most distinguished computer engineers. He joins King's from the University of Southampton, where he is currently Executive Dean of the Faculty of Engineering and Physical Sciences. He will succeed Professor Michael Luck who will be stepping down as Faculty Executive Dean after almost 7 years but will continue at King's as Director of the UKRI Centre for Doctoral Training in Safe and Trusted Artificial Intelligence.
With a career spanning more than 30 years across academia and industry, Professor Al-Hashimi is recognised as a leading and influential figure in the UK Higher Education sector. He has made significant theoretical and experimental contributions to the understanding of the interaction between hardware and software of energy-constrained computing and its application in industrial engineering designs for improved performance. Professor Al-Hashimi was a panel member on the UK Research Excellence Framework (REF)2014 and will be serving as a member of the REF 2021 Engineering Panel.
Professor Al-Hashimi joined the University of Southampton in 2000 and was appointed to a Personal Chair in 2004. He founded the ARM-ECS Research Centre and became ARM Professor of Computer Engineering in 2008. He was elected as a Fellow of the Royal Academy of Engineering in 2014 and awarded a CBE in 2018 for services to engineering and industry.
Speaking about his appointment, Professor Al-Hashimi said: "King's Vision 2029 shows it has the ambition to be an outstanding institution in engineering, science and technology. I am excited to have the opportunity to lead the realisation of this ambition and for the Faculty of Natural and Mathematical Sciences to contribute significantly to the success and reputation of the College. I look forward to meeting students in each of the NMS Departments and working with all colleagues both in the Faculty and across King's."
Announcing his appointment, Provost and Vice-President (Arts & Sciences) Professor Evelyn Welch said: "We are delighted that Professor Al-Hashimi will be joining King's as the Executive Dean of Natural and Mathematical Sciences. We have invested heavily in NMS which has grown to become one of the leading Science Faculties in the UK. Bashir's depth of experience will allow the faculty to continue on this trajectory and take it to new areas as we expand our innovative Engineering education and research. His REF panel knowledge and industry connections will help deliver the Faculty's expertise on solving critical research problems in Britain and internationally."
In this story