09 March 2015
Professor Clare Lees discusses Beowulf on BBC Radio 4
Professor Claire Lees joined Melvyn Bragg and other guests on BBC Radio 4 last week, to discuss the epic Anglo-Saxon poem Beowulf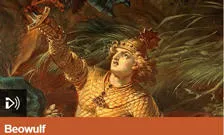 Beowulf
Professor Clare Lees joined Melvyn Bragg and other guests on BBC Radio 4 last week, to discuss the epic Anglo-Saxon poem Beowulf. 
The poem is thought to have been composed in the early Middle Ages by an anonymous writer and it tells the story of a Scandinavian hero whose adventures include battles with monsters and dragons. 
It survives in a single manuscript dating from around 1000 AD, which was rediscovered in the 19th century and has since been translated into modern English by many writers.
Listen back on the BBC Radio 4 website.
Clare Lees is Professor of Medieval Literature and History of the Language and Director of the London Arts & Humanities Partnership, the AHRC-funded Doctoral Training Partnership which brings together UCL, King's and SAS.