02 May 2019
Professor Cobourne receives Dewel Award
Professor Martyn Cobourne and his co-workers are the recipients of the 2019 B. F. and Helen E. Dewel Award by the American Association of Orthodontists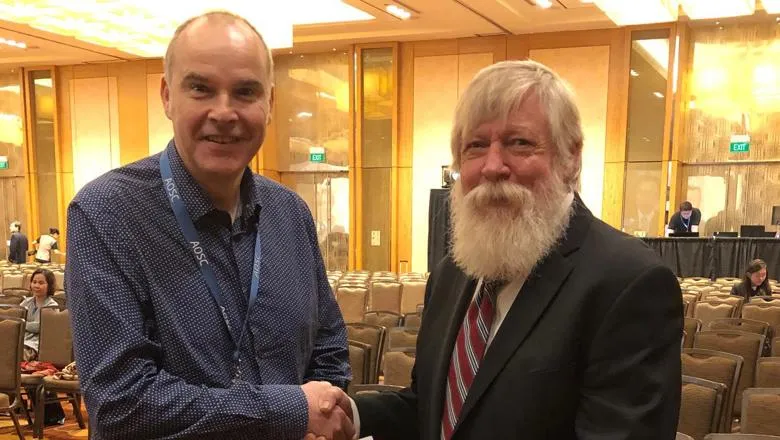 Professor Cobourne receives award
Professor Martyn Cobourne and his co-workers are the recipients of the 2019 B. F. and Helen E. Dewel Award by the American Association of Orthodontists.
The Dewel Award is given annually to the most outstanding clinical research article published in the American Journal of Orthodontics and Dentofacial Orthopedics during the previous year, and is selected by a panel of distinguished clinicians and researchers.
The winning article reported final outcome data for a multicentre randomised clinical trial conducted at Guy's and St Thomas' NHS Foundation Trust, East Kent Hospitals University NHS Foundation Trust and Brighton and Sussex University Hospitals NHS Trust, investigating the effect of supplemental vibrational force during orthodontic treatment with fixed appliances.
This trial was the basis of an MSc project in orthodontics initiated by Neil Woodhouse at King's College London, which included a number of collaborating consultant orthodontists from these regional units, including Andrew DiBiase, Nicola Johnson, Carmel Slipper and James Grant.
This trial took over three years to complete and has resulted in the production of two further MSc theses and three separate publications, including articles in the Journal of Dental Research and Scientific Reports.
The Dewel Award adds to the Chapman prize that was awarded to Neil Woodhouse by the British Orthodontic Society in 2017 for the best published orthodontic research article, which related to the primary outcome data for this trial that was published in the Journal of Dental Research.
DIBIASE, A. T., WOODHOUSE, N. R., PAPAGEORGIOU, S. N., JOHNSON, N., SLIPPER, C., GRANT, J., ALSALEH, M., KHAJA, Y. & COBOURNE, M. T. 2018. Effects of supplemental vibrational force on space closure, treatment duration, and occlusal outcome: A multicenter randomized clinical trial. Am J Orthod Dentofacial Orthop, 153, 469-480 e4.https://www.ncbi.nlm.nih.gov/pubmed/29602338
WOODHOUSE, N. R., DIBIASE, A. T., JOHNSON, N., SLIPPER, C., GRANT, J., ALSALEH, M., DONALDSON, A. N. & COBOURNE, M. T. 2015a. Supplemental Vibrational Force During Orthodontic Alignment: A Randomized Trial. J Dent Res, 94, 682-9.http://www.ncbi.nlm.nih.gov/pubmed/25758457
WOODHOUSE, N. R., DIBIASE, A. T., PAPAGEORGIOU, S. N., JOHNSON, N., SLIPPER, C., GRANT, J., ALSALEH, M. & COBOURNE, M. T. 2015b. Supplemental vibrational force does not reduce pain experience during initial alignment with fixed orthodontic appliances: a multicenter randomized clinical trial. Sci Rep, 5, 17224.http://www.ncbi.nlm.nih.gov/pubmed/26610843
In this story