01 November 2018
Professor Dame Carol Ann Duffy among those awarded Honorary Degrees
King's College London has awarded Professor Dame Carol Ann Duffy FRSL, renowned poet, playwright and academic, an honorary doctorate at its annual Honorary Degree Ceremony.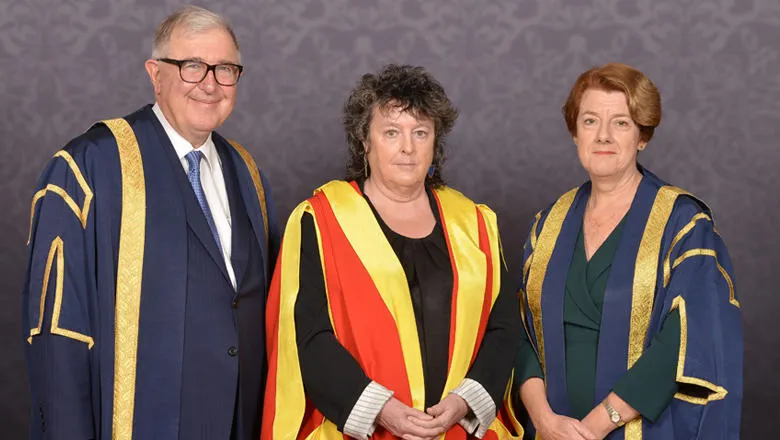 From left to right: President & Principal of King's Professor Ed Byrne, Professor Dame Carol Ann Duffy FRS and Baroness Morgan of Huyton, Vice Chair of Council at King's.
Carol Ann Duffy is currently a Professor of Contemporary Poetry at Manchester Metropolitan University, but is best known for her award-winning work, including poems such as: 'Havisham', 'Ship' and 'If I Was Dead', which are widely read in schools. She was appointed Britain's Poet Laureate in 2009 and has a strong commitment to public engagement.
In all King's honorary doctorates were awarded to seven highly distinguished individuals at a very special ceremony in the College Chapel, which included a performance of Monteverdi's 'Cantate Domino' by the Choir. Dr Vartan Gregorian gave the response on behalf of the honorary graduates.
Honorary graduates
Professor Patricia Davidson, Dean of the Johns Hopkins University School of Nursing. She is a global leader in cardiovascular health for women and vulnerable populations, and widely regarded as one of the foremost nurse academics in the world.  
Sir John Eliot Gardiner FKC, an internationally renowned conductor whose performances are distinguished by their foundation in rigorous intellectual scholarship. He is founder and Artistic Director of the Monteverdi Choir, the English Baroque Soloists and the Orchestre Révolutionnaire et Romantique.
Dr Vartan Gregorian, a distinguished academic and philanthropist. He is President of the Carnegie Corporation of New York, and is a former President of Brown University and of the New York Public Library. He was awarded the Presidential Medal of Freedom in 2004.
Professor Barry Halliwell, an internationally acclaimed biochemist known for his research on free radicals and antioxidants in biological systems. He is Chairman of the Biomedical Research Council, Agency for Science, Technology and Research (A*STAR) in Singapore and a senior adviser at the National University of Singapore.
Professor Sir Roger Penrose OM FRS, a world renowned mathematical physicist, mathematician and philosopher of science. He is Emeritus Rouse Ball Professor of Mathematics in the University of Oxford and Emeritus Fellow of Wadham College, Oxford.
The Honorable Sylvia Wynter OJ, a Jamaican playwright, novelist and academic and a celebrated philosopher of the colonial and postcolonial condition. She is Professor emerita at Stanford University and a King's alumna.
Sylvia Wynter's award was collected by her son, David Carew, who also read a response written by her.
Notes to editors
For information about the history of King's visit the About Us webpages.
For further media information, contact the Corporate Communications Team, comms@kcl.ac.uk.