28 June 2019
Professor David Whetham delivers an ethical Inaugural Lecture
Professor David Whetham of the Defence Studies Department delivers his inaugural lecture surrounding his research into Military Ethics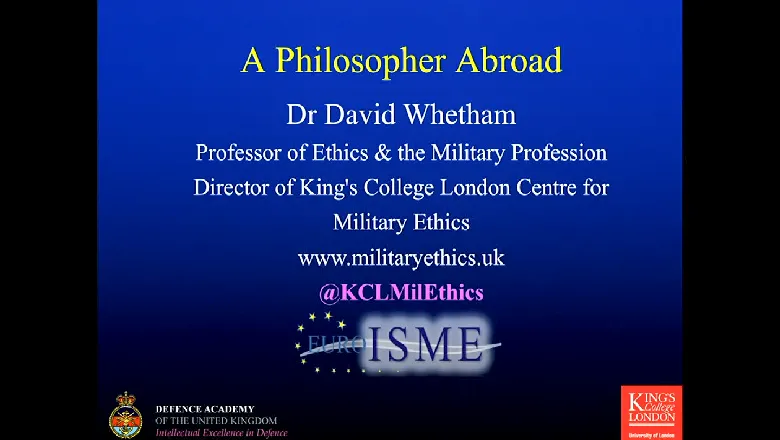 Lecture start
On Thursday 20th June 2019, Professor David Whetham of the Defence Studies Department presented his Inaugural Lecture 'A Philosopher Abroad' - A personal view of the different meanings of philosophy around the world, to a collection of friends, family, colleagues and MOD staff and students. 
After being introduced by Dr Robert Foley, Dean of Academic Studies, Professor Whetham began by mentioning the paradox surrounding his research: "The worst crime you can commit in society is to deliberately and premeditatedly take someone else's life, yet in War that is what you are supposed to do and what you get rewarded for."
Professor Whetham described that although the same basic principles have been present throughout history, Military Ethics shapes how to implement these in the 21st century and the ever changing military landscape. He used hypothetical and real examples of situations and videos to provoke ethical thoughts and discussion within the audience.
The full extent of his knowledge and academic prowess has resulted in Professor Whetham being called upon by various Governments and institutions to deliver his ethical expertise to solve a wide range of issues. He has taught personally around the UK and countries around the world, such as Romania, Spain, Serbia, Colombia, Nigeria, Middle East, Brunei, Australia and through distance learning in Dubai.
The interest and requirement for such a niche area of research prompted Professor Whetham to set up the King's Centre for Military Ethics, which offers online training which has currently been completed by 10,987 people across 146 different countries. This also prompted the creation of the highly successful and innovative ethics playing cards which are used around the world.
Professor Whetham finished by describing his influences from several philosophers, his work as a Magistrate but mostly from his experiences with the unique and wonderful partnership between the MOD and King's College London at the Defence Academy. He simply stated that he currently does and will continually do research into Military Ethics "because it works."
In this story