21 May 2018
Professor Ewan Ferlie and colleagues awarded prestigious Urwick Memorial Prize 2018
Professor Ewan Ferlie and colleagues from Said Business School (Oxford) and Warwick Business School were awarded the prestigious Urwick Memorial Prize 2018.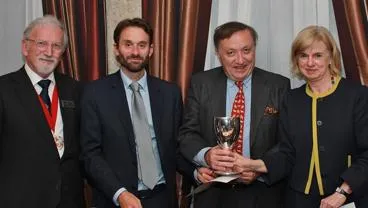 Professor Ewan Ferlie and colleagues awarded prestigious Urwick Memorial Prize 2018
The Urwick Memorial Prize is awarded for an outstanding piece of recent research relevant to management consultancy, published in the UK.
Their paper, 'The Silent Politics of Temporal Work: A Case Study of a Management Consultancy Project to Redesign Public Health Care', addressed the tension generated between consultants and clients through their different perceptions of time.
It identified that consultants would propose solutions that fit within their restricted timeframe – meaning they would take a more simplistic view of the problem(s) at hand. Whereas clients would view the problem in more complex terms, as they would have more time in which to address the issues. Whilst clients are able to accept the consultants' recommendations, they would wait for the implementation to fail, in order to legitimise their preferred, more complex approach to solving the problem.
The research suggests that overlooking discussion of the way stakeholders' time frames affected how they viewed the project enabled them to avoid overt conflict. However, doing so, this ultimately undermined the sustainability of the solution developed during the consulting project, leaving the key problems to be addressed in the future.
"This real-world application of our research is key to what we want to achieve here", said Professor Ferlie. "Working alongside other institutions not only enables us to draw on their expertise and showcase our own". 
They will be delivering the Urwick Lecture in September, where they will be presenting the work which won them the award, led by Professor Gerry McGivern of Warwick Business School.