09 June 2016
Professor Gordon McMullan wins Sam Wanamaker Award
Director of the London Shakespeare Centre and Professor of English Gordon McMullan has been awarded the prestigious Sam Wanamaker Award for his work in increasing the understanding and enjoyment of Shakespeare.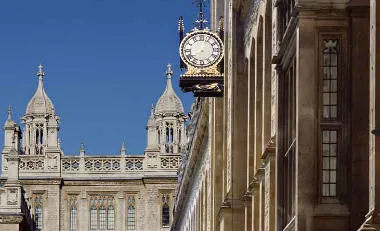 Maughan Library
With Shakespeare's Globe Theatre's Patrick Spottiswoode, Prof McMullan created the MA Shakespeare Studies taught jointly by King's and Globe Education, now in its sixteenth year. He said, 'The Globe has meant so much to me over the twenty years I have worked in London: it is really impossible for me to imagine this city, never mine our shared MA, without this marvellous theatre and education centre, and it is equally impossible to imagine my own scholarly engagement with Shakespeare – when writing literary criticism as when editing early modern plays – without the influence of Globe ways of thinking.'
Over the past five years, Prof McMullan has created and led Shakespeare400, the consortium of leading cultural, creative and educational organisations marking the 400th anniversary of Shakespeare's death in 2016 through a connected series of public performances, programmes, exhibitions and creative activities in the capital and beyond. 
On winning the Award, Professor McMullan said: 'I am enormously pleased – and a bit amazed, given those who have previously received this award – to receive the Sam Wanamaker award in this year of years, 2016. I would like to dedicate it both to my lovely colleagues at King's and in Globe Education and to a predecessor of mine at King's, Professor Sir Israel Gollancz - the leading light in the Shakespeare Tercentenary celebrations of 1916 and the inspiration for Shakespeare400.' 
The award was established in 1994 and is named after Sam Wanamaker, the founder of Shakespeare's Globe. Previous winners include Christopher Plummer, Gregory Doran, Paul Scofield, Claire van Kampen and Mark Rylance. Van Kampen and Rylance shared the prize in 2007. Shakespeare's Globe chief executive Neil Constable said, 'The visibility and breadth of celebrations to commemorate Shakespeare 400 years after his death have been, in large part, due to Gordon's vision and energy. He brought together a wide and varied body of organisations to enable London and the world to explore the legacy in scholarly and diverse artistic forms.'
Professor McMullan is due to give the Sam Wanamaker Fellowship Lecture at the Sam Wanamaker Playhouse on June 9, addressing what it means to remember Shakespeare in 2016.