15 November 2018
Professor Martha Nussbaum launches her book The Monarchy of Fear at King's
The Yeoh Tiong Lay (YTL) Centre of Politics, Philosophy & Law hosted celebrated moral philosopher Professor Martha Nussbaum on Tuesday 13 November as she launched her book The Monarchy of Fear at a public event at King's.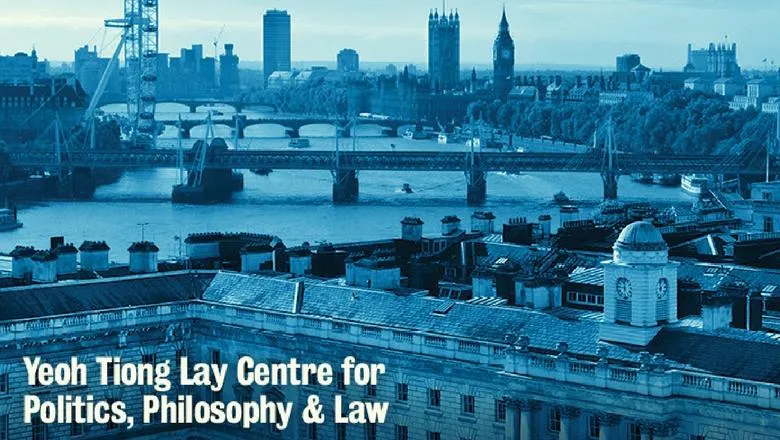 The YTL Centre for PPL
In The Monarchy of Fear, Professor Nussbaum argues that globalisation has produced feelings of powerlessness in millions of people in the West and that sense of powerless then bubbles into resentment and blame.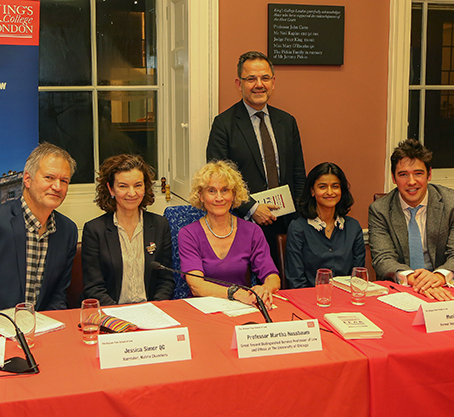 Professor John Tasioulas, Director of the YTL Centre of Politics, Philosophy & Law, said: 'We are honoured to launch Martha Nussbaum's new book, The Monarchy of Fear. It ranges in scope from a philosophical exploration of how deep-seated human emotions, such as fear, anger, envy, love, and hope can help or hinder the realisation of liberal democracy to concrete proposals for making progress, including three years' compulsory national (civil) service for the young. This is public philosophy for our perplexing times'. 
Professor Nussbaum's introductory talk was followed by comments from David Goodhart (Policy Exchange), Munira Mirza (former Deputy Mayor of London) Henry Newman (Open Europe) and Jessica Simor QC (Matrix Chambers). 
As part of Professor Nussbaum's visit to the School, she also took part in a special episode of our podcast series – The Verdict: Law and Society – where she discussed her work with Professor Tasioulas. Listen to the interview on Soundcloud and iTunes.
About Professor Nussbaum 
Martha C Nussbaum received her BA from NYU and her MA and PhD from Harvard. She has taught at Harvard, Brown, and Oxford Universities and is currently the Ernst Freund Distinguished Service Professor of Law and Ethics, appointed in the Department of Philosophy and the Law School at The University of Chicago. Professor Nussbaum is internationally renowned for her work in Ancient Greek and Roman philosophy, feminist philosophy, political philosophy, and philosophy and the arts and is actively engaged in teaching and advising students in these subjects. She has received numerous awards and honorary degrees and is the author of many books and articles. 
About the Yeoh Tiong Lay Centre for Politics, Philosophy & Law 
The Yeoh Tiong Lay Centre for Politics, Philosophy & Law was founded in 2014 as a focal point for interdisciplinary research in law from the perspective of both philosophy and politics. Although based in The Dickson Poon School of Law, the Centre has close links with King's departments of Philosophy and Political Economy. 
The Centre fosters interdisciplinary research involving politics, philosophy, and law within King's, while simultaneously bridging the gap between these academic disciplines and public decision-making. It strives to illuminate the major questions of our day through the application of rigorous interdisciplinary thought in politics, philosophy and law. 
Find out more about the Centre and its work on the Yeoh Tiong Lay Centre for Politics, Philosophy & Law webpages.