09 January 2020
Professor Massimo Renzo awarded Irvine Prize in Political Philosophy
Professor Massimo Renzo has been awarded the prestigious Gregory Kavka/University of California, Irvine Prize in Political Philosophy for his essay "Political Authority and Unjust Wars" (Philosophy and Phenomenological Research, 2018).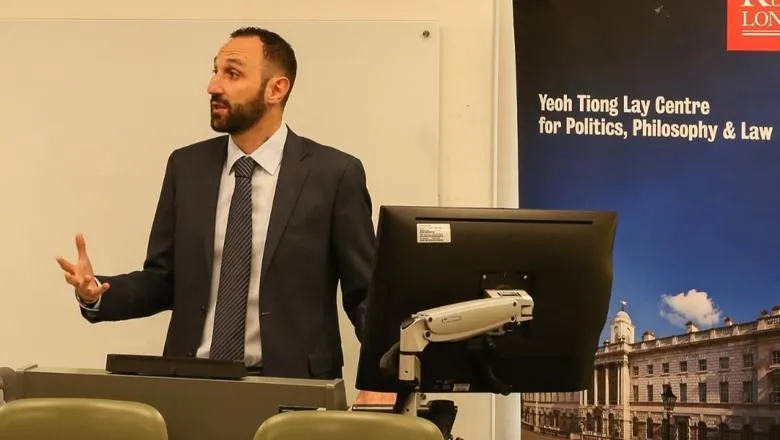 Professor Massimo Renzo
The prize is awarded biennially by the American Philosophical Association to the best essay in political philosophy published in the previous two years.
A symposium in honour of Professor Renzo will be held at the 2021 Pacific APA Conference in Portland. Moreover, Professor Renzo will be presented with the $1000 prize cheque during a prize reception.
The Gregory Kavka/UCI Prize in Political Philosophy is awarded every other year in odd years to the author of a paper in a refereed journal, an original book chapter or an original essay published in a collection with a multiplicity of contributors, from any area of political philosophy and political theory.
More info about the prize, and the list of previous winners can be found on the American Philosophy Association website. 
Professor Massimo Renzo
Professor Massimo Renzo joined The Dickson Poon School of Law in July, 2015 as a Reader in Politics, Philosophy & Law. Previously he was an Associate Professor of Philosophy at the University of Warwick and before that, a Lecturer at the York Law School. He has held visiting appointments at the Australian National University, the universities of Virginia and Arizona, the Centre for Ethics and Public Affairs at the Murphy Institute (Tulane University) and Osgoode Hall's Nathanson Centre for Transnational Human Rights, Crime & Security. Dr Renzo is an affiliated researcher at the Stockholm Centre for the Ethics of War & Peace and the Honorary Secretary of the Society for Applied Philosophy. He is also one of the editors of the journal Criminal Law and Philosophy.
In this story