02 February 2017
Professor Patrick Wright explores English identity and Brexit in new BBC Radio 4 series
What is Englishness, and what has the English identity to do with Brexit? Professor Patrick Wright explores the development of Englishness from the 19th century through to the present day in a BBC Radio 4 documentary series, The English Fix, starting Monday 6 February at 11am.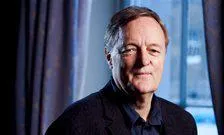 Professor Patrick Wright
Patrick Wright, Professor of Literature and Visual & Material Culture in the Department of English, has launched his BBC Radio 4 series, 'The English Fix'.
The documentary series, written and presented by Professor Wright, offers a critical exploration of the background to Brexit.
In a series of three programmes, Professor Wright explores the works of William Cobbett and G.K. Chesterton – once described as the Nigel Farage of English fiction – along with his own experiences of living in Kent, the 'Garden of England', in the years that the UK became a member of the European Economic Community (EEC).
Wright asks whether Brexit offers a liberation for Englishness, or the loss of a way to define itself - at least until another apparent threat encroaches?
The series is BBC History Magazine's programme of the month in their February issue, a pdf of the review can be found here.
The English Fix is broadcast on Mondays at 11am on BBC Radio 4.
Episode 1: Riding with Cobbett (11.00, 6 February) (listen back here: http://www.bbc.co.uk/programmes/b08crt61)
Episode 2: The Secret People (11.00, 13 February)
Episode 3: The Common Market in the Garden of England (11.00, 20 February)

For more information and to listen live or listen back, please visit http://www.bbc.co.uk/programmes/b08ffw8r/episodes/guide
In this story