13 May 2022
Professor Sir Harrison Birtwistle, 1934-2022
The Faculty of Arts and Humanities is greatly saddened to share the news of the death of our esteemed colleague, Professor Sir Harrison Birtwistle.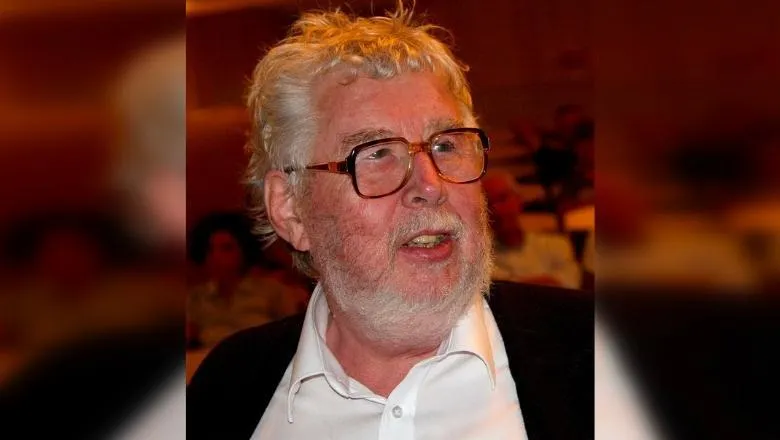 Words by Professor Silvina Milstein (with contributions from Rob Keeley and George Benjamin)
Professor Sir Harrison Birtwistle, who has died aged 87, held the Purcell Chair in composition at King's College London for seven years since its establishment in 1994. His vast and radically original oeuvre, which ranges from solo and chamber music to large-scale operatic and orchestral works, displays dazzling vitality. Prof. Sir George Benjamin, writes:
Something of a paradox resides at the heart of Birtwistle's compelling output. While post- war modernism provided its technical foundation, the sound of his music evokes much older imagery – medieval English ceremony, archaic Attic ritual, even the passage of geological time. His extraordinary gift was to forge a sonic vision from material which was resolutely contemporary but, through the alchemy of his imagination, appears simultaneously ancient and timeless.
And the sound is highly distinctive. The palette is predominantly dark and the texture crunchy. Abounding in bracing rhythmic vigour, Birtwistle's instinct for orchestral mass, register and timbre was tremendous. The dynamism of his structures, where terraced strata interact and mutate along perpetually unpredictable paths, gives the music huge dramatic momentum, impetus which can on occasion erupt into sustained ferocity.
Constructive rigour and modernist formal preoccupations were central to his outlook, which yielded works ranging from the tender nocturnal melancholy of the Orpheus Elegies to the extreme violence of Panic.
Largely self-taught as a composer, Harry (as he was called by those who knew him) could often be heard teaching in terms reminiscent of the pedagogy of the first Bauhaus. The language of mainstream musicology and music theory was largely alien to him, instead he preferred to invoke associations drawn from the visual arts. Who else would have advised a doctoral student to sketch an entire chamber opera as a single line from beginning to end, as if 'taking a line for a walk' in the manner of Paul Klee?
His remarks about the starkness of de Kooning's Black and White Series, the skilful deployment of chance marks in Bacon's canvasses, and the playful geometries of Braque's billiard tables still linger in my mind as suggestions for music to be written. His conversation though laconic was a cornucopia of insight and inspiration for his colleagues and students.
As George Benjamin sums it up:
once the ice broke - he was the sweetest of men, full of humour and the source of endlessly fascinating, original and memorable conversation.
Dr Rob Keeley, who taught composition in the Music Department throughout Harry's time recalls:
His huge work schedule allowing, he would usually find time to go and have coffee with colleagues and students at the local Caffè Nero ... And once his appointment was announced, there started to come an unbroken stream of post-graduate students eager to learn from him. I remember him being particularly engaged when the resident ensemble Lontano gave workshops for the students – he was the perfect, if idiosyncratic go-between with often nervous, unformed (if talented) students and hard-bitten professional musicians. We'd get used to long, pregnant silences while Harry slowly and laboriously drew diagrams on the lecture-room whiteboard to demonstrate some issue, but practical matters were always addressed, too.
Harry was particularly interested in the primordial spontaneity of young untutored minds and therefore enjoyed teaching undergraduate students the most. Yet, he was ambiguous about spending time away from composing and was suspicious about what went on in tertiary education institutions. In a conversation with Norman Lebrecht, as they sipped single malts at the Waldorf bar after a long teaching day at King's, Harry said that what teaching did was 'to raise the level of the mediocre'. He passionately believed in equal opportunities, but not when in detriment of excellence. He said in the same interview:
I believe we have in this country the best musicians in the world, but we don't have the best orchestras because we don't give them the money to rehearse. It's spread too thin. So second-rate becomes good enough and we do not know the difference anymore.
I vividly remember another conversation he and I had in 2001, accompanied by oysters and champagne, about his work with actors at the Royal National Theatre. Peter Hall had invited him to be Music Director - and later Associate Director - between 1975 and 1988, most notably creating the score for Hall's own production of the Orestia in Tony Harrison's translation. Harry explained to me how he taught the music to the actors. His time at the National Theatre was an experience that was deeply formative for Harry's outlook.
Around this time, shortly before his retirement from King's, he frequently saw his friend the art critic David Sylvester with whom – in his own words – Harry was having a sort of intellectual love affair. Sylvester was interviewing him for what was intended to be the basis of a book on the poetics of his music. In one emblematic exchange, Sylvester admitted that
with certain modern music – for example, your own – I do not understand what is happening and one of the things which moves me is the fact that I don't understand. It is the mystery of it. I mean, emotionally it produces strong gut reactions and I suspect that these are enhanced by my lack of understanding of what is going on.
To which Harry replied:
My problem is, in the way you are thinking, that I don't have any problem with music … One of the most difficult pieces is that cavatina string quartet of Beethoven's. And that has no theme at all, at all, just melody, and that is a good example of a problem piece and, to me, I think I find it quite straight forward in a way. I mean, I think it's absolutely magical and mysterious and of an order of invention that does not exist anywhere else.
Sylvester:
Do you think that [Beethoven] knew how (sic) he was doing? … I mean, I have a feeling, for example, that painters often don't know what they're doing; that, for example, the so-called development of Analytical Cubism to Synthetic Cubism … I do think that Picasso and Braque didn't know what they were doing.
Harry:
If you put yourself in front of a painting and imagine you are the person who is doing it, I think you would feel they knew what they were doing, but I do not think they knew why they were doing it
…
I say all the time that I've no idea what I'm doing, you know, because it's all about a sort of personal coherence.
It was this sense of personal coherence that guided his journey from the block-like construction of Tragoedia (1965), modelled on the choral ode of Greek theatre, to the relentless continuities of his later works involving the simultaneous unfolding of different layers of material, that found fruition in the Mask of Orpheus (1986).
It was a privilege to know him and have him as a colleague and we will miss him very deeply.
May 2022