01 March 2019
Professor Sonia Massai awarded honours at the Italian Embassy in London
Congratulations to Professor Sonia Massai who was awarded honours from the Italian Embassy in London.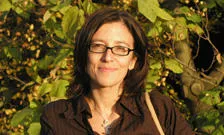 Sonia Massai, Professor of Shakespeare Studies at King's College London has received the Honour of UFFICIALE OMRI (Order of Merit of the Italian Republic) from the Embassy of Italy in London. The award was part of a joint ceremony bestowed upon by Italian Ambassador of London, Raffaele Trombetta.
To find out more, please visit the Italian Embassy of London on their website.
In this story