17 October 2023
Progress on poverty reduction falling short of UN's Global Goals
Bleak projections predict extreme poverty is on the rise in low-income countries and UN targets will be missed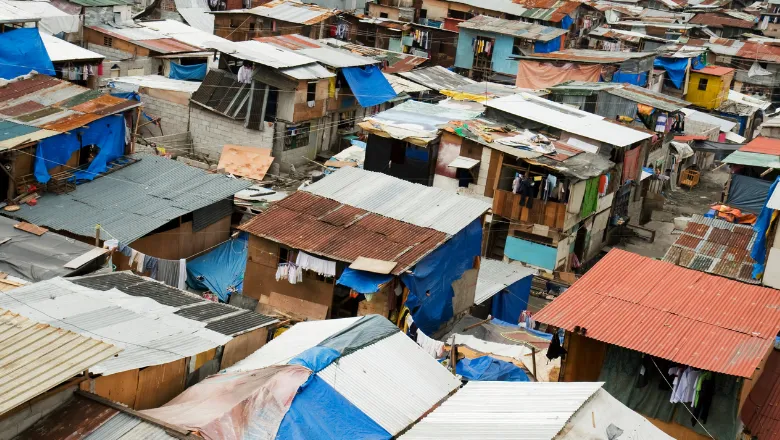 A new report has unveiled stark findings that show global ambitions to end extreme poverty by 2030 are falling woefully short.
Over 600 million people will remain in extreme poverty and 665 million people will be undernourished by the deadline of the UN's Sustainable Development Goals.
There will also be an increase in the number of people living in extreme poverty in Sub-Saharan Africa and low-income countries though most of the world's undernourished people will in fact be in middle-income countries.
Prepared along with researchers from the SDGs Center, Universitas Padjadjaran, Indonesia and the United Nations University World Institute for Development Economics Research (UNU-WIDER) the new paper also finds that 1 in 10 of the population of developing countries will still lack access to clean water.
This rate will be 1 in 3 in sub-Saharan Africa and low income countries.
In addition, more than 20 per cent of people in developing countries, and two thirds of people in Sub-Saharan Africa and low income countries, will lack access to basic sanitation
Andy Sumner, Professor of International Development at King's College London and a Senior Non-Resident Research Fellow at UNU-WIDER, conducted the research with Professor of Economics, Arief A. Yusuf, also a Senior Non-Resident Research Fellow at UNU-WIDER, and Zuzy Anna, and Ahmad Komarulzaman from Universitas Padjadjaran.
The projections, based on economic growth forecasts, take into account recent global shocks such as the COVID-19 pandemic and the inflation shock.
The authors conclude that economic growth will not be sufficient to reduce these numbers and close the gap to the global poverty SDGs.
A model of inclusive growth, combining economic growth and redistribution is essential, at global and national levels.

Professor Andy Sumner
The findings indicate that economic growth alone will not be sufficient to end global poverty and the global poverty-related SDGs will not be met by a considerable distance.
Professor Sumner said: "The implication of this, we argue, is that a stronger focus is needed on inclusive growth, and specifically redistribution with growth at global and national levels through policies to build productive capacities.
"We also need to introduce or expand income transfers to meet the extreme poverty target and ensure public investments are sufficient to meet the health, water, and sanitation SDGs.
"To this end new international financing needs to be made available through debt relief or other forms of finance to expand developing countries' fiscal space."
Created in 2015 by the UN, the Sustainable Development Goals are a collection of seventeen interlinked objectives designed to serve as a "shared blueprint for peace and prosperity for people and the planet, now and into the future".
However, at their half way stage, only 15% of the Goals are on track, with Covid, conflict and climate change often blamed for the lack of progress.
Professor Arief Yusuf, said: "The international community further needs to consider debt relief and alternative financial revenues for developing economies as this will be critical for expanding their capacity to implement effective poverty-alleviating policies."
The paper from UNU-WIDER is called 'Will economic growth be sufficient to end global poverty? New projections of the UN Sustainable Development Goals'.
UNU-WIDER is a blend of think tank, research institute, and UN agency – providing a range of services from policy advice to governments as well as freely available original research.
Kunal Sen, Director UNU-WIDER said: "This study is incredibly important. We have lacked data and research on the projections of the SDGs post-pandemic, and given the incredible impact the pandemic had to global poverty rates it is essential we review where we are and how we move ahead on these goals. The world must take stock of these sobering projections and take any corrective measures possible to avoid them becoming reality."
In this story