08 June 2015
Prosopography of the Byzantine Empire comes back to life
One of King's oldest digital prosopographical projects has recently returned to life, and is now freely available online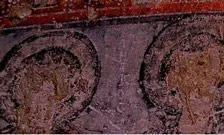 The Prosopography of the Byzantine Empire
One of King's oldest digital prosopographical projects has recently returned to life, and is now freely available online. 
The Prosopography of the Byzantine Empire (PBE) began as a project back in the late 1980s to produce a prosopography of individuals who appear in sources from the early Byzantine Empire (641-867 AD). 
PBE has an interesting story to tell to Digital Humanists, since, unusually for its day, the project seems to have been conceived of from almost its very beginning as a digital project to be published in some kind of electronic form. One could argue that the PBE project represented an important stage of development for the Digital Humanities, and certainly for DH at King's. 
For more information about PBE, see John Bradley's introduction to the project.