29 June 2022
Public Engagement Success at the Great Exhibition Road Festival 2022
On 18-19 June, Jyoti Mangal, Lindsay Munroe and Virginia Fernandez from the Centre for Doctoral Training (CDT) in Smart Medical Imaging presented a stall at the Great Exhibition Road Festival, supported by the CDT's Public Engagement Officer, Aishwarya Mishra. The activity sparked important discussions among visitors about the role of AI in healthcare and became popular among all age groups.
The idea behind the stall, called "Train your own Medical AI", was to show how AI can help doctors diagnose disease – highlighting that it is an interactive process, which involves training the algorithm and making sure it works well.
This message was conveyed to the visitors by deploying a range of creative solutions. Virginia explained: "We showed Festival attendees a brain image with a region of interest and asked them to describe the lesion within it in terms of size, texture and brightness. They were then given a set of marbles, which embodied these features and had to move them into "disease" or "healthy" buckets on the "decision tree" panel based on their appearance. Depending on how many they had of each, they obtained their classification result, and were prompted to point a UV torch at the image to check whether the lesion is actually a disease – in that case, it glowed – or not."
While the main target audience of the stall comprised of children between the ages of 5 and 12, it turned out to be a crowd favourite among all age groups. The activities sparked conversations around possible issues with AI, the future of imaging and healthcare and led to some members of the audience sharing personal, anecdotal stories around health and disease.
Lindsay said: "The best part was seeing how enthusiastic some of the children and parents were about science. One family had travelled all the way from Portugal just to come to this science festival because it is so unique."
The Festival occupies a special place in the CDT's Public Engagement strategy, with this year's activity repeating the success of the 2019 stall. For Jyoti, Lindsay and Virginia, the 2022 event provided an exciting introduction into running a public engagement activity at a major event while developing their communications skills and engaging with diverse audiences.
All team members emphasised the hard work that had gone into building the activity in the preceding weeks, from ideation phase to the weekend of the Festival, with volunteer helpers also playing an essential role in its delivery. Jyoti said: "I was amazed by all the volunteers who helped us during the Festival – they picked up the idea of the activity quickly and translated it into public engagement really well. Also, it was an organically diverse and strong representation from the CDT which will hopefully inspire the next generation of engineers and scientists."
In addition to members of the CDT, individuals across the School of Biomedical Engineering & Imaging Sciences contributed to its success. Virginia said: "The Public Engagement team helped us design the evaluation phase and recruit and train the volunteers - and get some training ourselves - for the session. We also got massive help from other members of the School, like Professor Alexander Hammers, who gave us advice and lent us a 3D printed version of the brain to show it to people, and Carlo Seneci, Maleeha Al-Hamadani and Kawal Rhode, who helped us design the interactive panels."
Aish concluded: "It was a great experience to volunteer with the PhD students on the day and engage with the audience, hear their personal stories about healthcare and imaging, and receive supportive feedback. To quote one of our visitors: 'This is the most engaging stall at the Great Exhibition Road Festival'"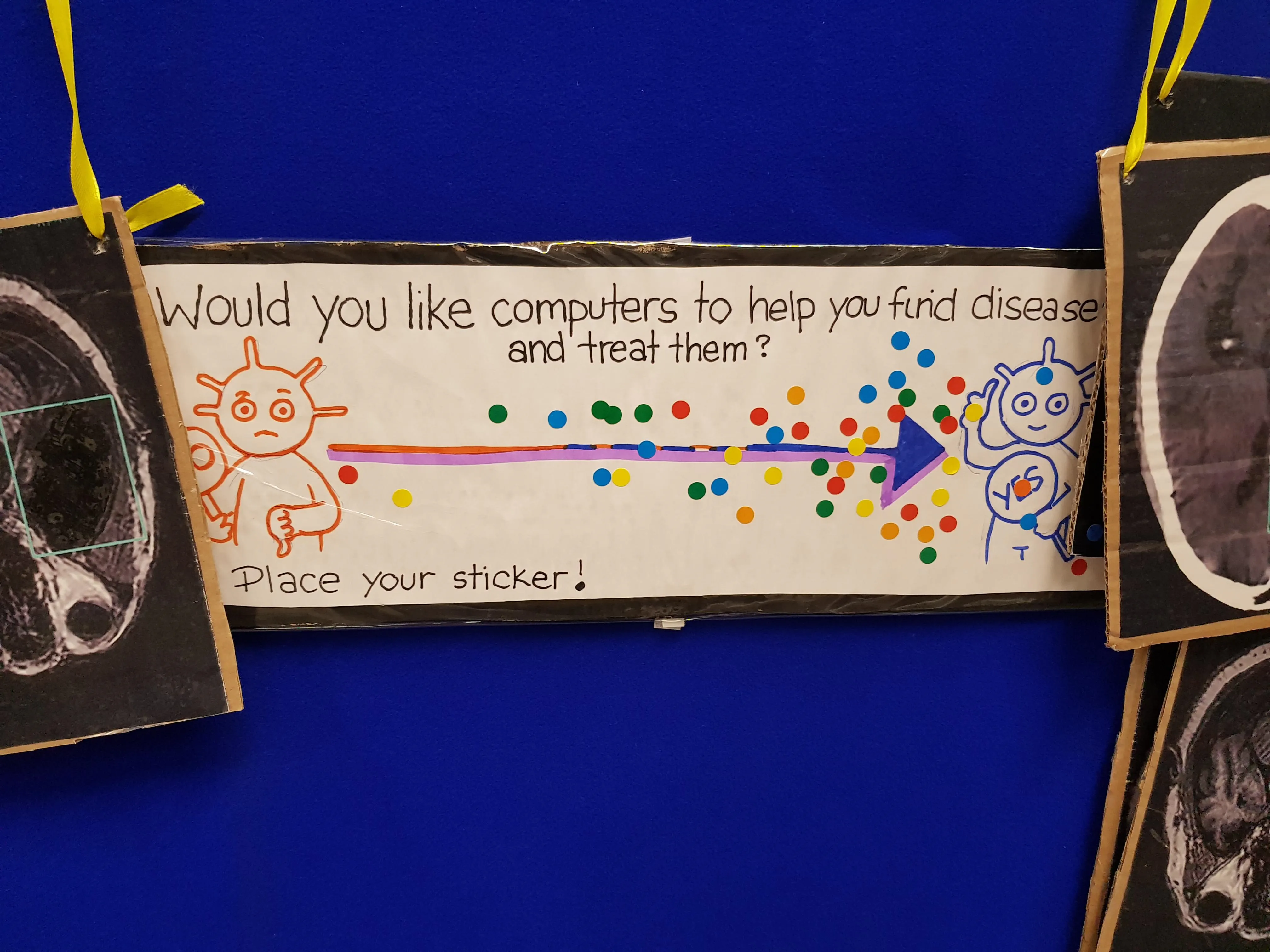 Drawing by Virginia Fernandez