08 January 2021
Rebecca Bruce-Smith
Rebecca Bruce-Smith is a current PhD student at King's Business School.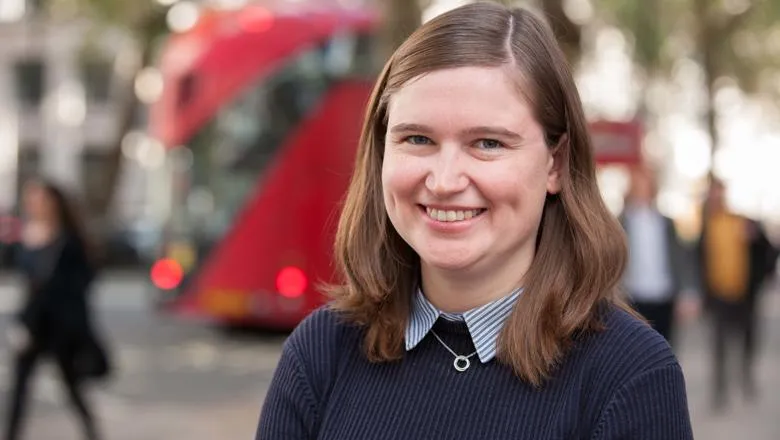 Rebecca Bruce-Smith is a current PhD student at King's Business School.
Tell us a little bit about your PhD research topic. Who is your supervisory team?
My PhD explores why reported levels of burnout are rising for English police officers and I'm supervised by Dr Ali Budjanovcanin.
What are your research interests and how did they evolve?
My interest in these topics stems from my background in police recruitment and previous HR roles at public and private sector organisations. I am particularly interested in leadership relationships and well-being outcomes. With my PhD, I'm exploring whether a police officer's relationship with their line manager influences whether that officer has suffered from burnout.
What motivated you to do a PhD and what were you doing before? 
I've always had an interest in the police and because of this I completed my Undergraduate degree in Politics and Social Policy at the University of York. After graduating, I spent several years working in HR roles before completing a Master's in Human Resource Management at King's. I then worked in the marketing and recruitment team for a policing organisation before taking the plunge to do the PhD.
What have you most enjoyed about your PhD so far?
Having the opportunity to spend several years working on something you are passionate about. There's no other job quite like it.
What were some of the challenges of PhD research?
The biggest challenge in my first year was feeling confident in myself and my research. I've never thought of myself as an academic, just someone who wants to contribute to policing in some small way.
King's allows the PhD community to attend Undergraduate and Master's level courses if they feel it will help their research. I attended several lectures to brush up on my (very rusty!) quantitative data analysis skills and participated in a women's development programme. I also have a fantastic supervisor who has supported me every step of the way – I can't think of a hurdle she hasn't been pivotal in navigating me out of!
Being a researcher definitely requires more independence than being a student. You're expected to direct your own research and manage your own time. I remember finding this quite an adjustment as I was so used to regular assessments and reading lists. However, once you get the hang of it, the PhD can be so rewarding and confidence building.
Why did you choose King's Business School?
Mainly because I studied here for my Master's and had a brilliant experience, but I also knew that the reputation of the Business School would stand me in good stead for the rest of my career. I don't think I'll ever got bored of working right in the heart of London and getting to call Bush House my office!
What are your career aspirations? How has your time at King's Business School influenced your thinking?
I want to get back into the world of policing, but my time at King's has made me really appreciate the importance of evidence-based decision making. I now know that whatever role I end up in, I want it to have a research focus.
Alongside my PhD, I've also had the opportunity to lead Undergraduate tutorials on Leadership and present my research findings to colleagues in the Business School. These experiences have helped me develop key soft skills on top of the research knowledge I have gained through the PhD. I have no doubt that these skills will be invaluable to my future career, wherever it takes me.
What advice would you give to those looking to study for a PhD in your subject area?
My main advice would be to really make sure that you are prepared for a four-year commitment. You need to have a genuine interest in your field so that you're always able to build yourself back up again when you inevitably face challenges along the way.
I also think it's important to start thinking now about what topics interest you the most and how you feel you can add something new to discussions in those fields. You absolutely don't need to know your final research question when you start (I was still working on that a year in!) but going in with clear ideas about your areas of interest, and what research is currently being conducted in that field, is key.