29 April 2022
Remembering former Head of War Studies, Professor Sir Laurence Woodward Martin
We pay tribute to the second Head of the Department of War Studies, Lawrence Martin, who passed away this week.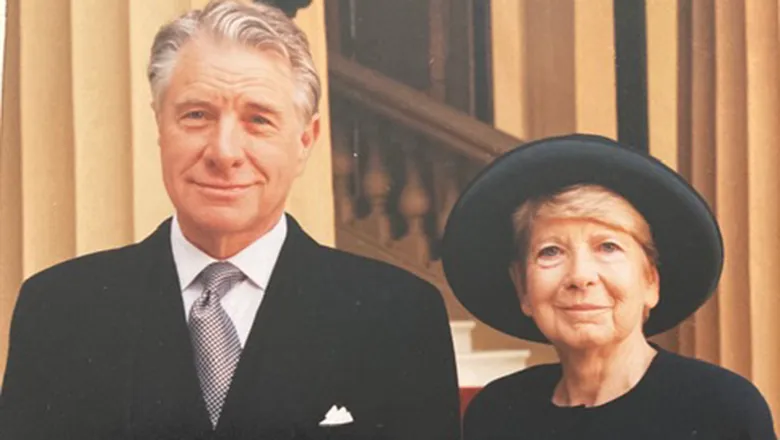 Professor Sir Laurence Martin with his wife Lady Betty, at Buckingham Palace, on the occasion of his knighthood (photo courtesy of Julia Sheppard).
Professor Sir Laurence Martin DL, who succeeded the founder of the Department of War Studies, Professor Sir Michael Howard, to be the second Head of the Department of War Studies at King's College London, died on 24 April, at the age of 93.
Laurie Martin had a long and distinguished academic career, including roles as Vice-Chancellor of Newcastle University and Director of the Royal Institute of International Affairs 'Chatham House.'
He grew up in Cornwall, where he attended St Austell Grammar School, before moving on to Christ's College, Cambridge and a PhD at Yale University. This was via a two-year stint in the Royal Air Force as a Flying Officer — he rather enjoyed the idea that he had been one of the last conscripts, albeit recruited after the Second World War had finished.
He began his academic career in the United States as an instructor at Yale in 1955, before becoming Assistant Professor at the Massachusetts Institute of Technology a year later. In 1961, he moved to Washington DC to become Assistant Professor in the School of Advanced International Studies — SAIS — at Johns Hopkins University (later named after one of its founders, Paul H Nitze), and in 1964 moved sideways in DC to join another Nitze creation, the Washington Center of Foreign Policy Research as a Research Associate. That same year, he moved back across the Atlantic to become Woodrow Wilson Professor of International Politics at the University of Wales, Aberystwyth (now the University of Aberystwyth).
After four years at Aberystwyth, Laurie ended up at King's College London — but, only after a curious dance of 'who-will-it-be', or 'will he, won't he' uncertainty between a temporary Defence Lectureship at All Soul's College, Oxford, and the Chair of War Studies at King's.
During the summer term of 1968, Michael Howard, then Head of the Department of War Studies, gathered his small departmental team — Wolf Mendl, Secretary June Walker and Brian Bond. Howard announced that he would be leaving, having been offered a Ministry of Defence-funded Fellowship at All Soul's, Oxford. A short time later, the team was recalled to be told that Michael was staying, as the position at All Soul's had been offered to Laurie Martin instead, whom Howard had already recommended to King's as a suitable successor.
However, the strategic studies merry-go-round took another turn and Michael Howard left the Chair of War Studies to take up the Defence Lectureship at All Soul's, as Laurie had rejected it. Michael believed the reason was because All Soul's offered no commitment beyond five years' funding from the Ministry — although the position later translated into the Chichele Chair of the History of War for him. So Laurie replaced him as holder of the Chair of War Studies.
That was the start of nine years in the role, from autumn 1968 to the start of 1978. During his time, War Studies continued to be a happy place — no doubt, in part, due to his charm and sense of humour — and what Brian Bond described as a 'cosy' department allowed those in it to pursue their interests. During the Martin era the Department steadily expanded student numbers and acquired philosopher and ethicist Barrie Paskins and diplomatic historian Michael Dockrill as faculty members. Laurie and Mike also shared a passion for old railways. Laurie was awarded the Fellowship of King's College in 1993.
Laurie Martin left King's to become Vice-Chancellor at Newcastle University, where he led the university for 12 years. The role confirmed his reputation as an excellent administrator and committee member, a reputation also promoted in his own stories!
In 1991, he left to become Director of Chatham House until 1996, where he led the Institute through the dynamic and challenging period of post-Cold War change in the world. This included the end of the Soviet Union, the Yugoslav dissolution and war, Iraq's invasion of Kuwait and the re-vitalisation of the United Nations and the UN Security Council's innovation at the boundaries of international politics and international law. Chatham House became of focus of policy discussion in this period, from which position it has continued to grow.
His leadership of a major think tank completed his parallel career crossing into the policy and the think tank sector. In 1969 he had been appointed to the International Research Council of the Georgetown Center of Strategic Studies, which became the Center for Strategic and International Studies (CSIS), and Laurie became Co-Chair of the Center three decades later in 1999. In addition, he was a member of the Council of the International Institute for Strategic Studies from 1973 to 1983. He was also active in the Institute for Conflict Studies, a Cold War phenomenon funded by the CIA, which closed at the end of the Cold War in 1990.
Laurie Martin's numerous books included Peace and Victory, Arms and Strategy, Strategic Thought in the Nuclear Age, The Changing Face of Nuclear Warfare, and NATO and the Defence of the West. His catalogue also included The Two Edged Sword: Armed Force in the Modern World, which was the published version of the annual BBC Reith Lectures that he delivered in 1981, one of Laurie's many distinctions. Another was the prestigious Lees-Knowles Lectures at the University of Cambridge, which he delivered that same year.
He also held Rockerfeller and Social Science Research Fellowships and was made Knight Bachelor in the Queen's Birthday Honours in June 1994 (alongside England's World Cup winning captain Bobby Charlton), transforming Professor Martin into 'Sir Laurence.' He was also proud to have been appointed Deputy Lord-Lieutenant of Tyne and Wear in 1987, and added the 'DL' suffix to his name.
In his retirement Laurie enjoyed fishing in Northumberland, gardening at his Suffolk home, and London exhibitions and entertaining at the RAF Club. He was also instrumental in establishing the Lady Betty Martin Fund in memory of his wife Betty, which awards grants to young artists in the North East of England, and an annual National Poetry Prize run by Girton College, Cambridge in memory of his daughter, Jane.
Although he ceased academic activity — perhaps regretting later that he did not continue to write, Laurie remained engaged, attending occasional events at King's.  He was last seen at the College in November 2021, attending the annual Saki and Michael Dockrill Memorial Lecture, honouring his former colleague and fellow railway enthusiast.
Since November, he suffered a series of illnesses in a short period and died peacefully in his sleep at his son's home in Birmingham with his family around him.
Laurie Martin married Betty Parnall in August 1951 and they had a daughter, Jane Elizabeth, and a son, William Laurence (Bill). Betty and Jane predeceased him and he is survived by his son Bill, daughter-in-law Susan and grandsons Tom and Jack.
This piece was written by Professor James Gow, Professor of International Peace and Security in the Department of War Studies, with assistance from Julia Sheppard, former Archivist, Liddell Hart Centre for Military Archives, King's College London.
In this story