01 February 2022
Report calls for investment in technical workforce to power research revolution
The UK's ambitions to become a global superpower in science and engineering must be supported by investment and recognition for its vital technical workforce, according to a new report.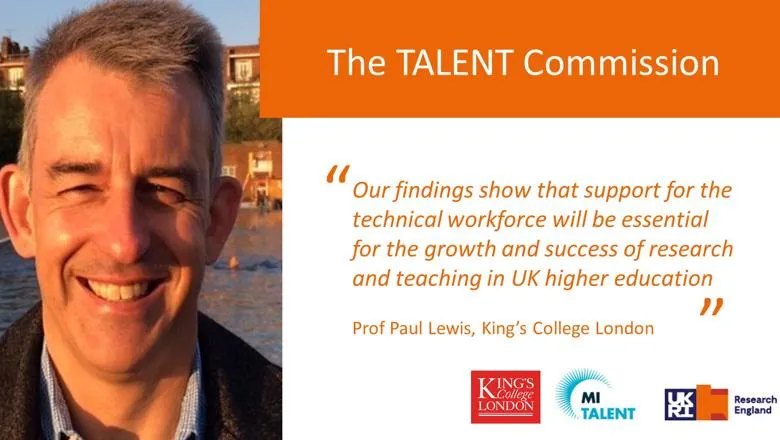 Professor Paul Lewis was a member of the TALENT Commission.
King's academic Professor Paul Lewis was part of the TALENT commission which has set out its recommendations to help develop the technical workforce in UK higher education and research institutes and thereby support research, productivity, and growth in the UK.
The report, funded by Research England, has also published new data about the skills, roles and careers of the technical workforce in UK higher education and research and offers 16 recommendations for the sector.
Prof Lewis, from the Department of Political Economy at King's, joined the commission at its inception in 2020 and worked closely with experts from a range of disciplines and organisations, headed by commission chair Professor Sir John Holman.
Prof Lewis said: "The commission's findings are the result of 20 months of in-depth research, evidence gathering and stakeholder engagement in the sector, encompassing a unique range of insights and analysis.
"Our findings show that support for the technical workforce will be essential for the growth and success of research and teaching in UK higher education and that a collaborative approach across universities, research institutes, industry, and government will be central to achieving that.
"I believe that early implementation of the commission's recommendations will help create a technical workforce that is recognised, supported and well-placed to help unlock the potential in sectors that will be key to the UK's future."
The commission's recommendations call for a broadening of career entry routes into technical roles encompassing both vocational and academic pathways, for investment in technical training and careers at all levels, perhaps especially apprenticeships, and for a concerted effort to ensure that technical staff are involved in decision making processes.
The research also highlights the extent to which employers, professional bodies, government and funders would benefit from collaboratively implementing the proposed changes to strengthen technicians' vital role in teaching, research and technology development.
Professor Sir John Holman, chair of the TALENT Commission said: "The strategic insight has identified a significant opportunity for higher education and research institutes to bolster their research and innovation offering, giving the UK a competitive edge in key sectors.
"The UK is striving to become a global superpower in science, engineering, and the creative industries. The TALENT Commission sets out a clear vision to help make this happen. This can only be achieved with the right technical capability and capacity across academia, research, education, and innovation.
"I strongly recommend employers, funders, government, professional bodies and technicians to consider the report findings and their role in implementing recommendations. I'm confident that engagement and execution will accelerate growth in emerging sectors and support the UK's growth and productivity post pandemic."
Read the report...
You can read the report in full here.
In this story