29 June 2018
How "big data" can improve ambulance response
New and emerging data sources could help improve ambulance efficiency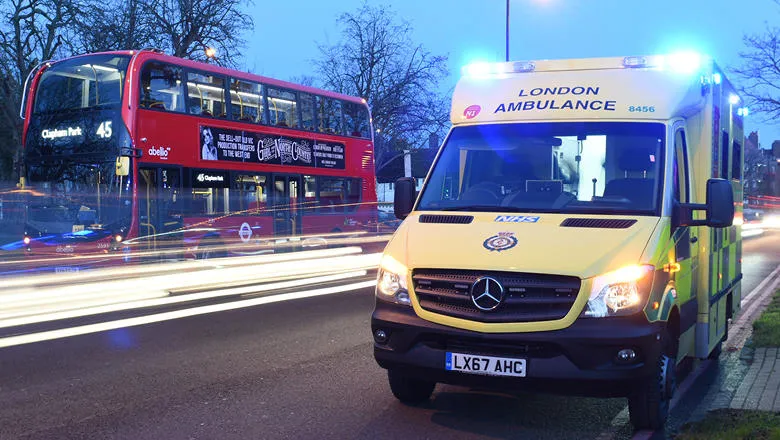 London ambulance
Government leaders could be doing more to exploit "big data" opportunities to improve how ambulances respond to emergencies, according to a new report by researchers at King's College London.
Published soon after the London Ambulance Service was upgraded to a 'Good' rating by the Care Quality Commission, the report suggests various ways for policymakers to promote the use of technology and data that would help to support it in meeting health system targets for ambulances.
Published today, the report looks at ambulance dispatch in London and highlights how new and emerging forms of technology and data from outside the NHS could help save lives. It emphasises opportunities for sharing non-health information with London Ambulance Service, for example about traffic conditions and air pollution. This data could help to improve ambulance efficiency through a better awareness of operating conditions and risks across the city, as well as helping achieve the Service's promise to become more innovative digitally.
In particular, researchers suggest that there is an opportunity for the Mayor, Sadiq Khan, to direct Transport for London (TfL) to better support the Service with traffic data and analysis. In recent years, TfL has developed world-leading 'intelligent transport system' management capabilities, but more could be done to share these benefits with ambulances as they navigate heavy traffic.
The report also notes that mobile network data is not made available to ambulance services, despite the potential to use it to respond more quickly to life-or-death situations. Mobile phone location data is currently used extensively for commercial purposes. The researchers believe there is scope for the Department for Digital, Culture, Media and Sport to use regulatory powers to expand this in to the field of health, working with Ofcom and mobile network providers to explore this opportunity.
These data opportunities would also contribute to delivering on the Mayor of London's aim of using data to 'transform the way public services are delivered' and the Government's Industrial Strategy ambitions to 'put the UK at the forefront of the AI and data revolution'.
Ross Fullerton, Chief Information Officer for London Ambulance Service, said:
'The demands on us are huge and technology is essential to the way we deliver a world-class service. This King's research is particularly well-timed to contribute to discussions around the Mayor's Smart London agenda to develop modern services in London. Expectations have changed; as public services we must innovate, working together and sharing data to deliver the best possible patient care.'
Professor Simon Parsons, Vice Dean (Technology) at King's Faculty of Natural & Mathematical Sciences and a Co-Investigator on the project, said:
'This report demonstrates the urgent need for our leaders to pay closer attention to the ways in which new data and technology can better support vital public services. We hope this is the start of a much broader effort to encourage our excellent London Ambulance Service with supportive tech policy.'
Archie Drake, Research Associate at the Policy Institute at King's, and the report's lead author, said:
'London Ambulance Service staff are heroes. What we've found here is that there are various practical ways for system leaders and politicians to support them with new technology. It's no longer enough just to set targets. Another key factor for better performance is more attention and investment in what information staff have at hand to make good decisions.'