29 July 2020
Researchers feature work at virtual conference
A pair of PhD candidates from the Department of Political Economy were among a group of top early career researchers invited to present their research to a virtual conference.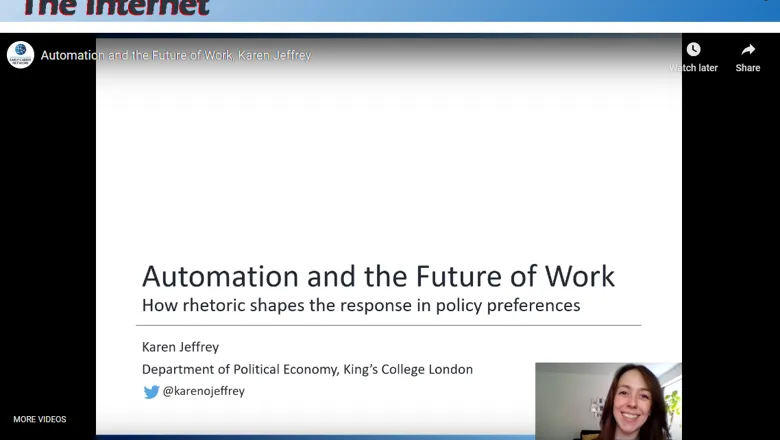 Karen Jeffrey presents her work at the conference.
Stuart Smedley and Karen Jeffrey made video presentations to a conference hosted by the Political Studies Association's Early Careers Network, which took place between 13-24 July.
The conference, #BecauseTheInternet, saw more than 90 presentations made, with almost 250 people attending the virtual event.
Stuart's presentation was entitled British public opinion and attitudes towards developments in European integration: A historical analysis, with Karen's presentation titled Automation and the Future of Work: How rhetoric shapes the response in policy preferences.
The conference used the 'content delivery' approach and the format worked on the basis that each presenter submitted a 15-minute video presentation, which anyone taking part in the conference could then comment on.
You can watch Stuart's presentation here: www.youtube.com/watch?v=7Dlm-ZbCp4U. Karen's presentation is available here: www.youtube.com/watch?v=20_ObYeS7LQ.