05 February 2015
Resonata Music publishes Rob Keeley and Stephen Hicks
Resonata Music, specialists in publishing sheet music for brass instruments, have just published the work of Senior Music Lecturer, Dr Rob Keeley and PhD student Stephen Hicks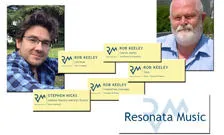 Resonata Music
Resonata Music, specialists in publishing sheet music for brass instruments, have just published the work of Senior Music Lecturer, Dr Rob Keeley and PhD student Stephen Hicks.
Dr Rob Keeley has had four pieces published: Circus Games for trombone and ensemble, Trio for horn, violin and piano, Lustrum for solo trumpet and Florentine Fanfares for trumpet and piano. Stephen Hicks' three pieces - Hidden Traces/Ancient Places for brass quintet, Trombone Concerto and Simultaneously Sovereign and Invaded for trumpet and string quartet – will be available soon. 
For more information visit Resonata Music.