24 November 2017
Results of Mooting Selection Round and Success at International Mooting Competition
An update on the School's mooting activity, including results of the mooting selection round and a recent success at an international mooting competition.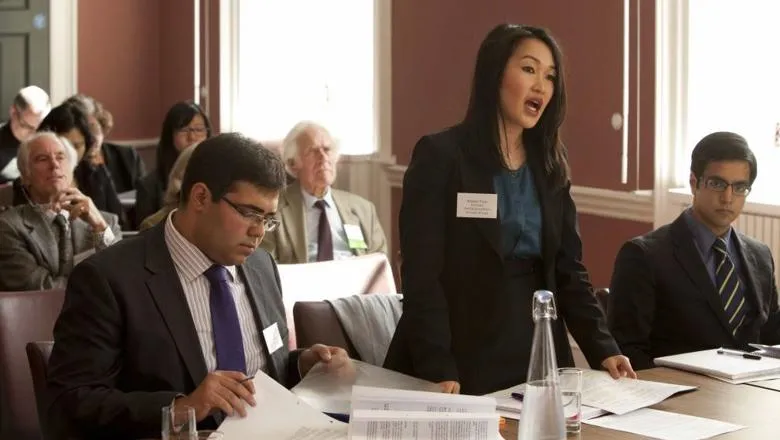 Moot image
Stream 1 Mooting Programme – Results of Selection Round
In September 2017, the School ran its first streamlined application process for the following five mooting competitions: the Jessup Moot, Vis Moot, Oxford IP Moot, European Law Moot and European Human Rights Moot. Applications were received from 74 undergraduate and LLM students with competition fierce for the spots on offer. We congratulate the following students on being selected to represent the College, and wish them all the best for their mooting endeavours:
Jessup Moot: Eyvana Bengochea, Andrew Brown, William de Catelle, Sarojah Sathivelu and Radhika Sharma.
Vis Moot: Mariangela Bucci, Gaetan de Robillard, Hannah Tablan and Adela Valkova. 
Oxford IP Moot: Sabrin Fetih, Sofia Neacsu and Nicolas Schuscheim.
European Law Moot: Zuzanna Bobowiec, Iseult Dereme, Alysson Havard and Felix Herrmann.
European Human Rights Moot: Norah Alsemari, Ashley Catterall, George Collect and Agnes Lau.
We also wish to acknowledge all the hard work done by the coaches and Faculty Advisors in selecting the teams, and the work of Daniel Robson in coordinating such a large number of applications.
If you have any questions about our Stream 1 moots, please write to us at the KCL mooting address: mooting@kcl.ac.uk. 
---
Law Students find Success at International Mooting Competition
At the beginning of November law students Andrea Carbone (LLM), Sadyant Sasiprabhu (LLM) and Simon Weber (PhD) flew to Boston together with their coaches Ricardo Gerhard Turma (LLM) and Farnush Ghadery (PhD) to participate in the final rounds of the Foreign Direct Law Investment Moot at Suffolk University Law School.
The competition has been running for some years now, each year at a different university, and the global rounds attract students from universities from all over the world. The King's team had been preparing for the competition since June of this year and had already concluded the written part of the competition, when they arrived in Boston. At the global rounds, they underwent four different rounds of mooting against universities from Australia, Argentina and France. The team achieved great personal results, with one of the advocates, Andrea Carbone, even being ranked 18th among the hundreds of participating advocates as part of the competition. Overall, the competition was a great way for the team to work on their advocacy skills as well as to network with like-minded students and established arbitrators.