23 September 2016
Richard Howells awarded Oxford University fellowships
CMCI Professor Richard Howells has been awarded two fellowships at Oxford University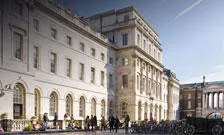 Strand Campus
CMCI Professor Richard Howells has been awarded two fellowships at Oxford University for the second semester 2017.
The first is a Visiting Fellowship at Exeter College. Here he will be working on Aaron Siskind, the 20th century American photographer.
The second is a Visiting Research Fellowship with the Department of Politics and International Relations. Here he will be aligned with the sociology seminar group, with a particular focus on his work on Utopia.
The fellowships will run in conjunction with Professor Howells' research leave from King's, starting in January 2017.
In this story