07 June 2018
Rosalind Franklin Institute: developing new treatments
10 universities will harness cutting-edge technology to transform the way medicines are developed.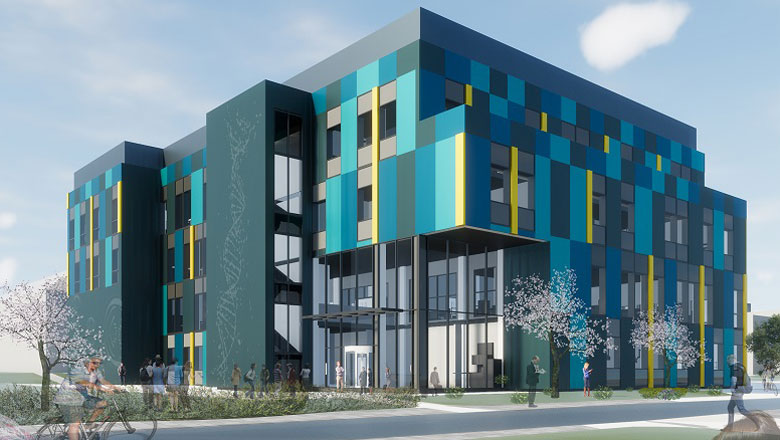 Rosalind Franklin Institute.
Business Secretary Greg Clark used the launch of the Rosalind Franklin Institute (RFI) on 6 June, to announce funding for an ambitious first wave of technology projects to be undertaken by scientists at the £103 million facility.
Based in Harwell, Oxfordshire, the RFI will use disruptive new technologies, such as AI and robotics, to improve our understanding of biology and drive the development of new diagnostics, drugs and treatments.
Bringing university researchers and industry experts together in one facility, the RFI will pioneer adventurous, high-risk, high-reward research, which will transform the way new medicines are developed.
The namesake of the institute, Rosalind Franklin, together with Maurice Wilkins, Ray Gosling, Alec Stokes, Herbert Wilson and other colleagues at the Randall Institute at King's, made crucial contributions to the discovery of DNA's structure in 1953.
Speaking about the RFI, King's Council Member and Senior Vice President (Quality, Strategy & Innovation) Chris Mottershead said: "It's fitting that this world leading institute bears the name and the boundless ambition of such a pioneering scientist as Rosalind Franklin.
'The techniques she used, during her spectacular academic career at King's, transformed our understanding of life sciences, by fusing the cutting-edge technology of the day with well-established scientific knowledge.
'The Rosalind Franklin Institute will follow in the spirit of enquiry that drove Rosalind herself. Its scientists will develop new techniques and tools and apply them for the first time to biological problems.'
Professor Roland Fleck, Director of the Centre for Ultrastructural Imaging (CUI) at King's and the College's RFI lead said: 'The technical challenges of the work the RFI will undertake are significant, such as the development of the first pulse source transmission electron microscope specifically targeting the study of biological questions, but the goal is worthy of our efforts.'
The Institute is an independent organisation funded by the UK government through the Engineering and Physical Sciences Research Council (EPSRC) and operated by ten UK universities. It will work with industrial and academic partners from across the UK, fostering interdisciplinary research with real impact in imaging, diagnostics, drug development, and many more fields.
Professor Philip Nelson, EPSRC's Executive Chair, said: 'As EPSRC is the main delivery partner for the Rosalind Franklin Institute, I am extremely pleased to see the Institute officially launched today. Research here at the Harwell hub, and at the universities that form the spokes of the Institute, will help the UK maintain a leading position in the application of engineering and physical sciences to problems in the life sciences.'
The ten academic partners are: University of Birmingham; University of Cambridge; University of Edinburgh; Imperial College London; University of Leeds; Kings College London; University of Manchester, University of Oxford; University of Southampton and University College London.