10 June 2021
Roundtable examines impact of UK breakup on security
The impact of Scottish independence on security and stability were discussed by an expert panel at a roundtable event hosted by King's College London.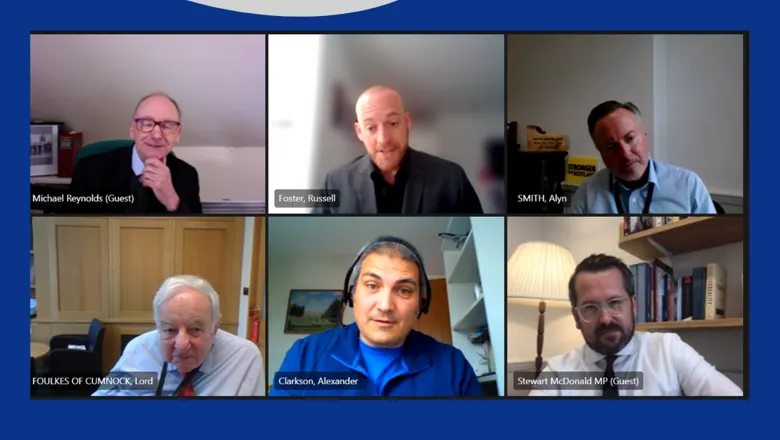 Panellists discussed the security implications of Scottish independence. Picture: KCL
The Breaking Britain roundtable was held on 26 May and saw academics and leading politicians consider the geopolitical and security implications of a divided UK from both pro-independence and pro-union perspectives.
The event was organised by Dr Alex Clarkson and Dr Russell Foster, from the Department of European and International Studies at King's, and welcomed Alyn Smith, SNP MP for Stirling; Stewart McDonald, SNP MP for Glasgow South; and Lord Foulkes of Cumnock, Labour peer. Invitations were also extended to the Conservative Party but were declined.
The latest Scottish Parliament elections saw the SNP returned as the largest party at Holyrood, with 64 MSPs. Although the party fell short of an overall majority at May's election, the result reignited debate on a second Scottish independence referendum.
Amidst debates over constitutional validity and legitimacy, the aftermath of Brexit and the pandemic, and the economic dimensions of possible independence, the geopolitical, diplomatic, and security dimensions of the UK and its component states have often been overlooked.
As such, the panel considered how debates surrounding Scottish independence and the possible breakup of the United Kingdom intersect with discussions of regional and global security, increasingly aggressive and authoritarian states, the future of NATO, and the continuing protection of all the peoples of the British Isles.
Carry on the debate by tuning in to the Breaking Britain podcast here.
In this story