02 August 2018
Sanna Stegmaier receives USC Shoah Foundation scholarship
Sanna Stegmaier has been awarded a prestigious scholarship by the USC Shoah Foundation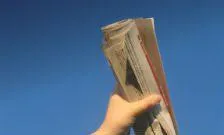 News
Third-year German Studies and Cultural Studies joint-PhD student Sanna Stegmaier has been awarded a prestigious scholarship by the USC Shoah Foundation to attend the Centre for Advanced Genocide Research.
 "I feel very privileged to have been awarded the Honorable Mentions Award by the USC Shoah Foundation as it's an invaluable opportunity to actively and personally engage with a project I have been researching for the last year," says Sanna. 
The Centre Graduate Research Fellowship enables advanced-standing PhD candidates from any discipline to spend a month in residence at the USC Shoah Foundation Centre for Advanced Genocide Research to advance dissertation research through the use of Visual History Archive (VHA) and other USC resources.
"As the New Dimensions in Testimony project has been controversially discussed, particularly in Europe, I always knew I would like to go and experience it myself as well as talk to those who were involved in creating it. This fellowship is particularly relevant for my research as it will allow me to combine spending time in the archive with interviewing those directly involved in designing, administering and promoting New Dimensions in Testimony. I think both are essential in order to situate the divergent reactions to the project in their respective (trans)national contexts," says Sanna.
Sanna earned an honourable mention in the 2018-19 competition because of her innovative research in the area of digital genocide studies, one of the Centre's three core research themes, and because of the value to her research that the in-depth consultation enabled by the award will provide. 
"In my research project, I explore two contemporary challenges for Holocaust memory: the intersections between the end of the era of witnesses and the increasing availability of new technologies for the transmission of testimonies. The digital age and its virtual realities have fostered a re-evaluation of physical presence, which collides with the imminent disappearance of Holocaust witnesses. Reading them as performative engagements with contemporary Holocaust memory, I compare three transnational witness projects that address these two challenges while simultaneously extending testimony as archival material. To what extent does performing testimony challenge or consolidate (trans)national memory discourses? What are the ethical and aesthetic implications of attempting to virtually conserve the presence of Holocaust witnesses through interactive 3D projections?" says Sanna.
Sanna will arrive at the Centre for her two-week residency near the end of August where on top of conducting research in the USC Shoah Foundation Visual History Archive, she will also be consulting with staff from the Dimensions in Testimony team.