09 April 2019
Celebrated Syrian artist Sara Shamma to explore modern slavery in new King's project
Exhibition of artworks by King's Artist Sara Shamma runs at the Arcade at Bush House from 1 October to 22 November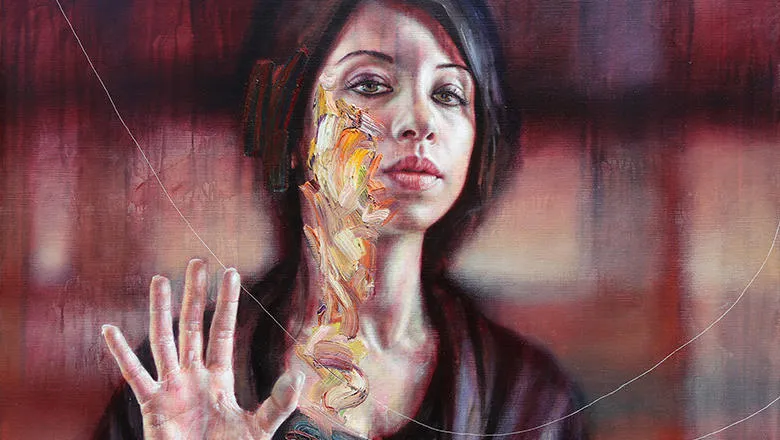 Sara Shamma self portrait
King's College London have announced Sara Shamma, one of Syria's most celebrated artists, as a King's Artist in residence for 2019. Working with the university's Institute of Psychiatry, Psychology & Neuroscience (IoPPN) and the Helen Bamber Foundation, the London-based artist will develop a new visual vocabulary of modern slavery, culminating in an exhibition titled Sara Shamma: Modern Slavery, curated by Kathleen Soriano, which will open during Frieze London (1 October – 22 November 2019).
The project has been inspired by Shamma's first-hand experience of hearing the traumatic stories of women and girls who have been kidnapped by ISIS in Syria and Iraq. This provoked Shamma to collaborate with leading academics at King's College London and the Helen Bamber Foundation, a pioneering Human Rights charity supporting refugees and asylum seekers who are survivors of extreme human cruelty, to help shine a light on the plight of modern slaves, and advocate for change. 
There are currently estimated to be more than 40 million people in modern slavery around the world, who are suffering chronic and interpersonal trauma which can damage their lives and relationships and those of their children, families, and communities. Working with Dr Siân Oram, Lecturer in Women's Mental Health at the IoPPN, and co-lead of the UK Research and Innovation-funded Violence Abuse and Mental Health Network, findings from Shamma's residency will build on the NIHR-funded PROTECT project, which described the health needs and healthcare experiences of trafficked people in England and inform existing projects aimed at reducing the risk and impact of violence against women. The partnership will also identify new research questions and develop collaborative relationships with organisations working to support survivors of modern slavery.
Shamma's residency will explore the psychological impact of modern slavery: the meaning of survival and recovery from the perspectives of survivors, of those who work to support their recovery, and who campaign for better support. With consent, Shamma will audio record qualitative interviews with women survivors of modern slavery who are receiving support from the Helen Bamber Foundation. These interviews will inform Shamma's creation of large-scale portraits of the women which will be exhibited in a major exhibition curated by Kathleen Soriano at Bush House, King's College London. The exhibition will be accompanied by a book of essays and insights into the project by Sara Shamma, Dr Siân Oram and other leading experts in the field of modern slavery.
Sara Shamma commented "As an artist I draw inspiration from the immediate world around me.  At certain points in my life, that immediate world has been confused, angry and frightening. Those personal, close encounters have motivated me to engage with the issues and to use my medium, painting, to comment and challenge the status quo. Over time, we have frequently turned to artists to make sense of difficult or complex issues. Very much in this tradition, I hope that my responses to, and engagement with survivors, through this residency at King's College London, will help raise awareness and understanding of this very live issue."
Shamma, whose works can be found in both public and private collections around the globe, has a long-standing interest in the psychology associated with the suffering of individuals and has had many projects exploring this theme, including World Civil War Portraits (London, 2015), Diaspora (Dubai, 2014) and Q (London 2013). Shamma graduated from the Painting Department of the Faculty of Fine Arts, University of Damascus, she has been the recipient of various international art awards and was a prizewinner in the 2004 BP Portrait Award at the National Portrait Gallery, London; she became the United Nations World Food Programmers 'Celebrity Partner' in 2010.  She moved to London in 2016, where she currently lives and works, under the auspices of an Exceptional Talent Visa.
King's Artists brings together artists and academics to trial new ideas and test pioneering approaches, building on King's College London's strong connections with the vibrant cultural community across London and beyond. Through academic and cultural exchange, King's Artists nurtures experimentation, supports enquiry and inspires creative responses to academic research, while providing opportunities for artists to develop their practice alongside King's researchers.
Dr Siân Oram, Lecturer in Women's Mental Health at the IoPPN commented:  "It is by now well-documented that trafficked women report a high prevalence of mental distress many months, and even years, after regaining their freedom. Escape from situations of human trafficking cannot be equated with recovery from its harms. Through this project we hope to gain a better understanding of what helps women in their recovery and to communicate this to the widest possible audience."
Alison Duthie, Director of Programming at King's College London said "King's Artists exists to provide academics and artists with a platform through which to interrogate and examine some of the most challenging questions for contemporary society. In drawing together, the experiences of women who have suffered the physical and psychological impact of modern slavery, Sara Shamma and Dr Siân Oram will provide both a means through which survivors can process their painful experiences, while also raising the public consciousness of the plight of the millions of women entrapped as modern slaves around the world."
Recovering from Modern Slavery is a King's Artists collaboration between King's College London's Health Service and Population Research Department and artist Sara Shamma. It is supported by the King's Sanctuary Programme, as part of King's Worldwide, and by the university's Culture team.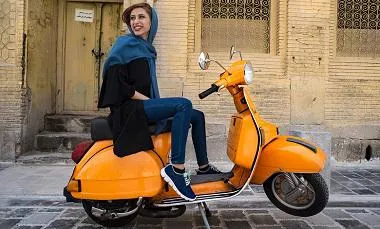 A photographic series in the Arcade at Bush House exploring the paradoxes of life in Iran.