09 October 2020
School's new Great Debates series will tackle global issues
A new series coming to King's College London will seek to address some of the biggest questions of the modern age.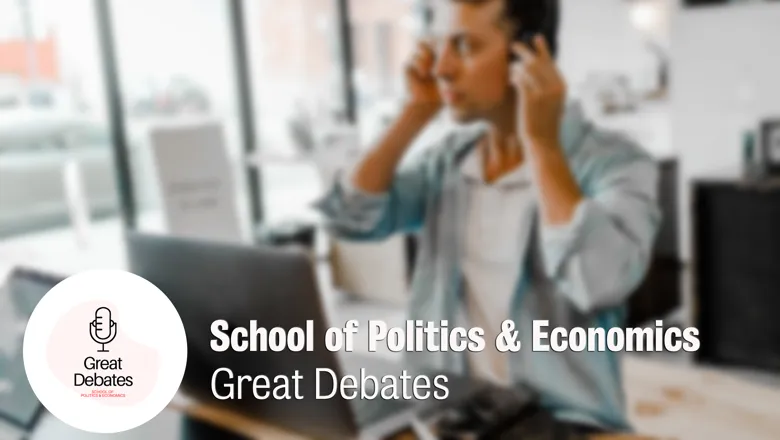 The School of Politics and Economics new Great Debates series
A host of the nation's leading scholars and experts will come together to tackle the issues shaping the world, from climate change and COVID-19 to migration and inequality, as part of the School of Politics and Economics' (SPE) new Great Debates series.
The theme for the inaugural Great Debate is 'Politics and Economics in Challenging Times', with the event taking place from 14.00 – 16.00 on 12 November.
Professor Peter John, head of the School of Politics and Economics, said: "The world has become more turbulent and fast-moving, and is much less predictable than it once was, with many traditional boundaries becoming more blurred, not least between economic and political processes.
"This makes it harder to understand current politics and economics; it also means that the social sciences are needed more than ever to help understand the challenge for the wider public and policy-makers.
"King's is uniquely well placed to contribute to these debates and offer understanding of them. Through these Great Debates, I hope we can help advance the debate, while celebrating our approach as a university and seeking to make a difference to the outside world."
For the launch, Professor John will present his position document on the importance of politics and economics for today's academic and public debate, why they both need debating, and what he thinks the great debates might be about.
Four respondents from the departments in SPE will discuss the document before the (virtual) floor is opened for discussion.
Andrew Blick will act as chairman with Shaun Hargreaves-Heap, Leila Simona Talani, Gulnaz Sharafutdinova, and Jeevun Sandher acting as respondents.
The first event will be taking place on Teams. Events will then take place throughout the academic year, with dates to be announced.
In this story