08 November 2019
Scrap Home Office fees for child dependents
Ratidzo Chinyuku
RATIDZO CHINYUKU: We need to do more for child dependents who through no fault of their own find themselves without formalised immigration status in a country they thought was their home.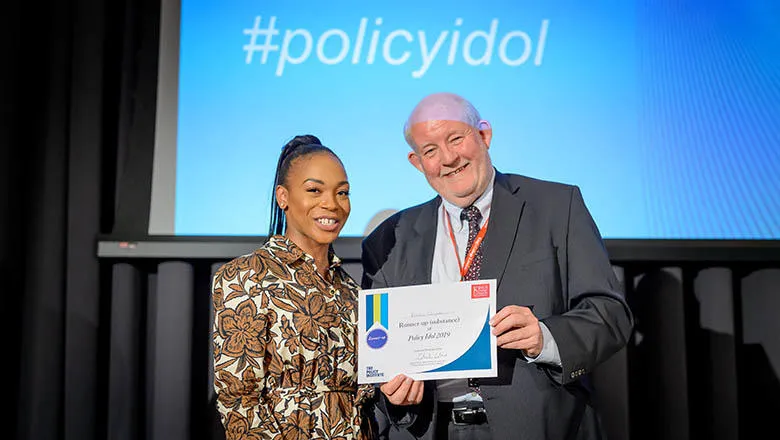 This piece is part of a blog series from the student finalists of Policy Idol 2019. Through the series, we're sharing students' policy ideas for changing the world, which they pitched at the competition earlier this year. 
Find out more about Policy Idol
Immigration costs the Home Office around £1.75 billion per annum, approximately half of which is recovered through application fees and charges for the services they provide. A typical application for Indefinite Leave to Remain (ILR) costs £2,349 per individual. Costs which are said to be governed by the "expenditure of the previous years" and are "set above the cost of delivery, to reflect the value of the product". By the Home Office's own estimations, a typical application attains an average processing fee of £327, which means that these applications currently boast profits exceeding 500 per cent. Although the classifications differ, the UK charges significantly higher fees and pathways to settlement when compared to other EU member states.
For an average family of two parents and two child dependents, an application for ILR costs £9,556. This value increases significantly when legal counsel is taken into consideration. Assuming that the average household has a disposable income of £28,000 per annum, the route to settlement is unattainable for many migrant families, which means that many parents choose to omit their children when it comes to formalising immigration statuses.
The Home Office fee waiver for human rights-based applications can help dependents who are either destitute or at risk of becoming destitute. However, applicants for ILR are not eligible under this policy, meaning there is no viable assistance for parents unable to afford to pay for their children. This means child dependents grow up as "irregular" migrants, raising considerable difficulties for them at a later stage in life, in addition to the societal problems caused.
Undocumented migrants pose a significant political and social challenge. The personal impact for undocumented dependents results in a loss of identity and belonging, restrictions around accessing tertiary education in addition to some public resources and confinement to an informal or illegal economy. The wider societal implications are felt in the labour market, where sectors which face recruitment challenges are unable to make use of migrants' skills. They're also felt in the economy where the informal economy results in tax losses to the exchequer. Finally, they impact society in general where a disconnected "shadow" population evolves, undermining social cohesion.
It is clear that civilised governments cannot turn a blind eye to this population, particularly where child dependents who, due to no fault of their own, find themselves without formalised immigration status in a country they thought was their home.
Although objective policies will struggle to feasibly minimise this impact on a large scale, some changes could be made to improve the situation. For example, this could include reducing the number of future irregular immigrants by cutting Home Office fees for child dependents.
This policy has the potential to be cost-neutral. Firstly, the loss of formal revenue as detailed above in the cost to the economy, negates the purported benefit derived from applicant fees. Additionally, barring talented individuals to accessing higher education and subsequently high skilled employment, contributes to a loss of productivity and benefit for local communities, meaning that irregular immigration must be compensated through public expenditure, rather than making the best use of talent. Thus, by statistical analysis, we can predict that this policy would help up to 20,000 child dependents, benefiting both the individuals themselves and society as a whole.
Ratidzo Chinyuku is an undergraduate student in Biomedical Science