11 December 2019
Setting students on their path to success
In the last issue of InTouch, we met Midwifery student Isobelle, who told us about the financial challenges she faced while studying at King's.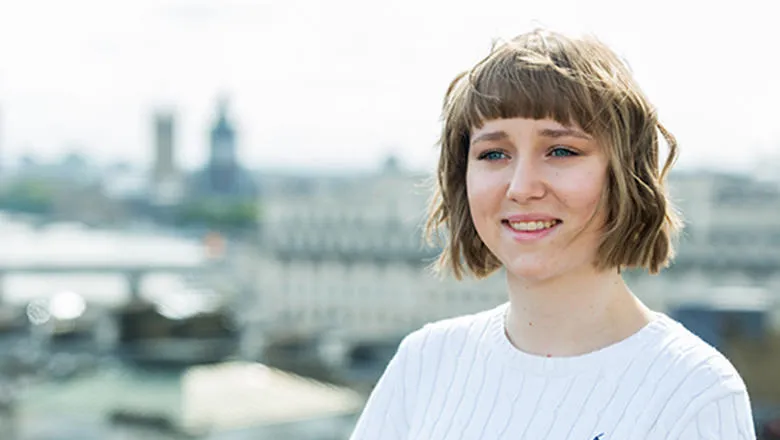 [This article is from the Autumn/Winter 2019 issue of InTouch, your alumni magazine]
Today's students face financial struggles that were unprecedented just a few years ago. While London offers a truly unique student experience in terms of activity and culture, the rising cost of living means that many students are forced to work multiple part-time jobs alongside their studies just to afford essentials such as food and rent.
Those who can't juggle working with lectures risk being left behind in their studies or dropping out of university altogether. In the last issue of InTouch, we met Midwifery student Isobelle, who told us about the financial challenges she faced while studying at King's.
'I didn't know how I could afford to eat, let alone pay my rent or fares. I started applying for jobs, even though I had no idea how I could fit in working with my studies. The worry was constant, and my studies began to suffer. I even failed two assignments, which was devastating. I could feel everything I'd worked so hard for slipping away.'
Isobelle's story moved many of you in the King's global alumni community to support the Hardship Fund with a gift. Your generosity will enable the Fund to support many more deserving students. Students like Erin, who, as a result of alumni support, has gone on to fulfil her life's ambitions.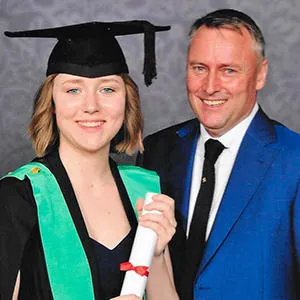 Erin and her father at her graduation
Meeting the challenge
'I am from Lancaster and live with my father. My mother left the family home when I was 11 and then died when I was 13. My father and I have an excellent relationship and I know that, if he were able, he would provide more financial support. When I received the money from the Hardship Fund, I was so relieved. I could cover my rent and the cost of the books needed to access my course in the very best way. The Hardship Fund makes living in London a little bit easier. It is still incredibly hard to afford to live in such a city when you cannot be given financial support from your parent, but it encourages you to work as hard as possible. If I hadn't received the funding, I would have been unable to afford rent.'
Making a difference
'To get to university, hard work has been key, and the financial support has made this form of education more accessible. For students such as myself, the King's Hardship Fund is not simply money to ease hardship; it is a gesture that encourages you to persevere and stops you from feeling unseen at university. The Fund is, in many cases, a lifeline. To come from a single-parent, working-class background and yet still be able to achieve just as much as those who are more fortunate is something that I am endlessly proud of. Thank you to all the alumni who have supported me to succeed. In my area, it is not often that students achieve as much as I have. I'm so grateful for alumni support.'
Onwards and upwards
'To be the first member of my family to attend university is something that has made both myself and my father exceptionally proud. I was able to graduate from King's with an excellent degree in the summer of 2018 and, since then, I have moved on to undertake an MA in Philosophy at King's. Upon graduating, it was such a relief to know that I had dedicated all of my time to studying and not having to work to afford living in London.
As I embark upon my MA, I have recently become a recipient of the Fund once again. Because of this, need not worry so much about paying for things such as travel, rent and books. Now I am able to fully dedicate myself to my course and to making King's a better place, by taking up the role of Student Representative and Subject Ambassador. I am able to fully experience King's and my studies so that I can achieve my goal of undertaking a PhD at King's when the time is right for me. Without the help of the Fund in both my BA and my MA, I would have been simply unable to carry on in education.
Once again, I can only say thank you to the alumni who are able to offer the much-needed help to the many students such as myself. The Fund is much more than simply a pot of money. It's a real chance at furthering one's own life and ambitions through education.'
The generosity of the King's global alumni community enables the Hardship Fund at King's to help students like Erin and Isobelle achieve their dreams. Thank you for your vital support.