21 June 2021
Setting the stage for collaborations with a King's-TMDU Research Event
A virtual research exchange event was held between the King's College London Faculty of Dentistry, Oral & Craniofacial Sciences (FoDOCS) and Tokyo Medical and Dental University (TMDU) School of Dentistry.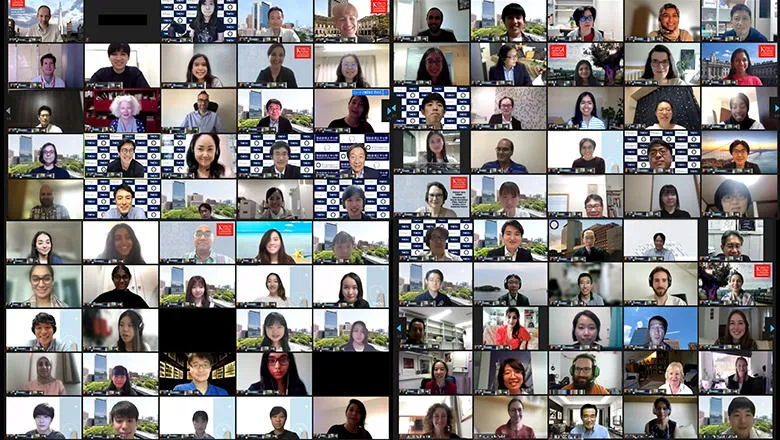 Following the success of the virtual Education Exchange Event back in February 2021 between King's College London Faculty of Dentistry, Oral & Craniofacial Sciences (FoDOCS) and Tokyo Medical and Dental University (TMDU) School of Dentistry, this month it was the turn of the two institutions' research communities to get together online. While student exchanges, including electives and visiting summer projects, have been going on between FoDOCS and TMDU for over ten years, but this was the first time the focus was on investigator-to-investigator interaction.
Given the time zone differences and the many weekday commitments of the key participants, a live session was held on Saturday 5 June, in the morning in London and evening in Tokyo. The virtual format enabled the four Centre Heads from King's and the six Group Heads from TMDU to present an overview and highlights from their respective departments. Some talks were presented live while others were pre-recorded and made available to an event microsite:
https://emckclac.sharepoint.com/sites/FoDOCS-TMDU
This site will remain open and accessible to anyone interested in finding potential collaborative partners at TMDU. Before, during and since the event, participants and others were invited to share their thoughts using the Padlet platform accessible from the site.
Going from a hearing a talk to developing a relationship, and ultimately a scientific collaboration is a notoriously haphazard process, but Profs. Karen Liu (FoDOCS, Centre for Craniofacial Regeneration & Biology) and Sachiko Iseki (TMDU, Molecular Craniofacial Embryology Department) described how it can be done by recounting their own experiences. They described how meetings in person over a number of years led to summer student exchanges and culminated in full-blown ongoing collaboration at the postdoctoral level.
To explore potential partnerships, the presentations were followed by small virtual "breakout rooms" with just a few Investigators in each, grouped loosely by subject area. Subjects ranged from organ regeneration to oral cancer. In the debriefing session that followed, it was clear that many of the participants had indeed identified some promising individuals and areas of research where future collaborations might happen.
Prof. Jeremy Green, FoDOCS Vice-Dean International (Research), who chaired the live event, commented: "This whole event is itself an experiment. If each of us can find just one person or one piece of research at the other institution that they would be interested in having further conversations, this event will have been a success". Early feedback from participants suggests that the seeds of quite a few collaborations may have been sown during this event.