06 October 2017
Silvina Milstein: premiere of Shan Shui by the Lontano ensemble
Silvina Milstein: premiere of Shan Shui by the Lontano ensemble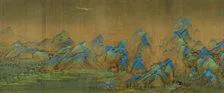 Silvina Milstein
The ensemble Lontano will premiere Silvina Milstein's Shan Shui(mountain/water) for nine instruments on 18 October 2017 from 19:00 at the Great Hall, King's College London.
It has been said that the shan shui style of Chinese painting goes against the common definition of what a painting is, it refutes colour, light and shadow and personal brush work. 'Shan shui painting is not an open window for the viewer's eye, it is an object for the viewer's mind, it is more like a vehicle of philosophy'.
'The Western mind appears to work in straight lines; the Oriental, in wonderful curves and circles' wrote Lafcadio Hearn, the late nineteenth-century writer of Greek and Irish descent, strongly anchored in American literature, and fascinated by French and Eastern cultures, who married a samurai's daughter, took Japanese citizenship, and became a Buddhist practitioner. Paradoxically in the 1960s, Lafcadio Hearn's retelling of several Japanese ghost-stories became the source of Masaki Koyabashi's film Kwaidan,featuring a sound-track by Toru Takemitsu, whose music brings together traditional Japanese and contemporary European art music. Treading on the footsteps of these intercultural encounters, diachronic 'shadowings', and transpositions between art forms, Silvina Milstein's Shan Shui plays around with notions of time and imagery from films by Kenji Mizoguchi and Kaneto Shindo.
Pre-concert talk and discussion
16:45 to 18:00, Wednesday 18 October 2017
Room SWB21, Department of Music, South West Block, Strand Campus, WC2R 2LS
Free tickets to the concert to be found on this link.
Free tickets to the pre-concert talk and discussion to be found on this link.