11 May 2018
Some types of fibre more beneficial for gut health than others
Fibres found in specific foods such as wheat, legumes, garlic and onions may be more beneficial for gut health than fibres from some other fruits and vegetables, according to an analysis of 64 studies undertaken by researchers at King's College London.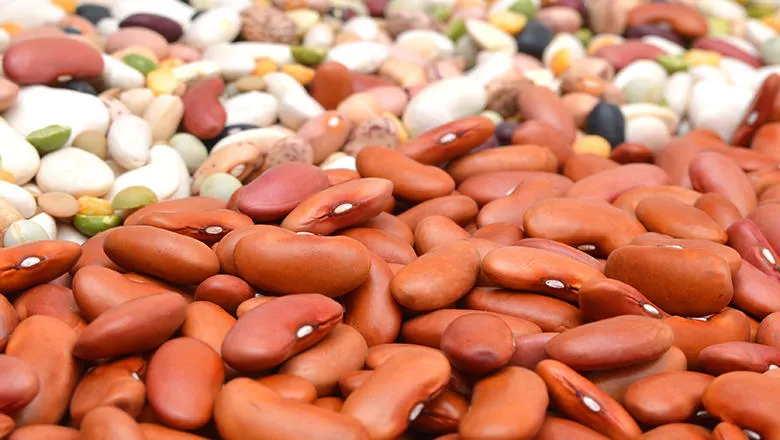 beans
The study found that certain types of fibre, known as prebiotics, had a more significant impact on the microbiome (the community of micro-organisms, such as bacteria, found in the body) than the general types of fibre found in foods such as brown rice, fruit, and potatoes. 
Prebiotic fibre is used by the body to feed 'good bacteria' in the digestive system. The analysis showed that, compared to other types of fibre, the consumption of prebiotic fibres resulted in higher levels of 'good bacteria' Bifidobacterium and Lactobacillus in the gut. These bacteria are required for a healthy digestive system to function effectively and are already known to be found live in probiotic foods.
The analysis, conducted in collaboration with academics from Bond University and the University of Queensland, is published today in the American Journal of Clinical Nutrition and examined the results from 2000 participants in all the relevant dietary intervention studies ever conducted.
Fibre can be found in a wide range of different foods with key sources being whole wheat pasta and bread, berries, broccoli and nuts. Previous studies have shown that these general types of fibre can be beneficial for health, including reducing the risk of bowel cancer and heart disease. The new analysis shows that these general fibres do not have a large effect on the type of bacteria in the gut microbiome. 
By contrast, the study showed that prebiotic fibre increases the number of the good bacteria in your digestive system by feeding them. Prebiotic fibres can be found in various foods, including:
Chicory root
Artichoke
Garlic
Onion
Wheat flour
Beans and lentils
The researchers did not find an increase in diversity of bacteria in the gut, irrespective of the type of fibre being investigated. The studies also did not measure the amount of fibre in people's usual diet before the studies took place and how this might impact the effects prebiotic fibres. 
The researchers hope the findings can provide a basis for further research and longer studies that lead to improved and more tailored dietary advice for increasing the presence of good bacteria in the gut. This may help people with chronic diseases linked to the microbiome (such as diabetes or autoimmune diseases) and patients with conditions such as irritable bowel syndrome who may not be able to consume lots of high fibre foods without experiencing symptoms.
Commenting on the study, Professor Kevin Whelan, Head of the Department of Nutritional Sciences at King's College London and author of the paper said: 'The definition of healthy eating is a balanced diet. It is not about kale and coconut oil but about eating a wide range of fruit and vegetables, whole grains and healthy fats. However, it can be difficult to ensure you are getting a sufficient amount of fibre, which is key for a healthy digestive system.
'We've shown that not all dietary fibres are equal, so our findings are an important development in understanding the complexity of the gut microbiome and how it can be affected by the foods we consume, as well as how this can potentially be adapted and personalised for different people.'
Associate Professor Katrina Campbell, senior author from Bond University in Australia, said the study was a step in the right direction to understanding the impact and importance of fibre on gut health: 'These findings are incredibly beneficial, however further research is needed to determine the role of the entire diet and dietary patterns. We are going to enter the next phase of research which will investigate the effect different cuisines have on the gut and the role of gut health in maintaining health and preventing disease.'
'Dietary fiber intervention on gut microbiota composition in healthy adults: a systematic review and meta-analysis' was published in the American Journal of Clinical Nutrition on 11 May 2018.
For further information please contact the Public Relations department on pr@kcl.ac.uk or 0207 848 3202
For further information about King's, please visit the King's in Brief web pages