23 November 2020
'Sound Young Minds' wins 2020 Royal Philharmonic Society Impact Award
This week, 'Sound Young Minds' won the 2020 Royal Philharmonic Society Impact Award which recognises outstanding initiatives or organisations which engage and have a lasting positive impact on the lives of people who may not otherwise experience classical music.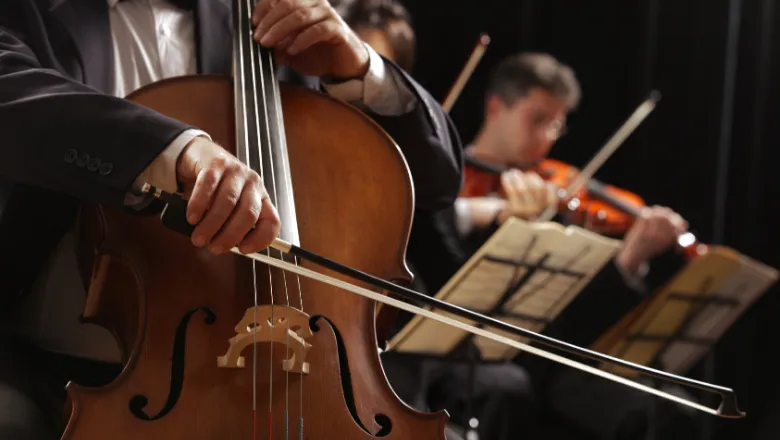 'Sound Young Minds' is a bespoke programme created by the City of London Sinfonia in partnership with Bethlem and Maudsley Hospital School and designed to build confidence and self-esteem in young people living with severe mental health and psychiatric conditions through music-making and sharing. The Institute of Psychiatry, Psychology & Neuroscience and the Centre for Humanities and Health are evaluating the project, funded by a King's Together Award. It aims to establish which outcomes benefit from the programme and how these can be characterised and measured, and its first findings will be shared in March 2021.
Dr Sally Marlow, King's Project Lead, said: In the Sound Young Minds project the CLS musicians have created something very special, which reaches young people who are very severely unwell with mental illness. The challenge for us as an interdisciplinary research team is to articulate what they do in such a way that we can share the benefits of music to mental health with the wider world. Every day we learn something new from our cultural partnership, and we are thrilled they have won this award - it is an honour to work with CLS.
Professor Brian Hurwitz, King's Project Co-Lead, said: It's been as inspiring for us as researchers as it has been for young people at the Bethlem and Maudsley schools, to engage in music making with CLS. They are not only brilliant instrumentalists, but inventive, interactive and imaginative players in settings so different from a traditional concert venue. It's a magical collaboration, full of possibilities.
Now in its fourth year, the music programme is the only one of its kind in the UK and is one of the central pillars of CLS' singular identity informing every aspect of its work from world-renowned concert stages to care homes, the digital sphere to schools. Over the past three decades, CLS has engaged people in music-making in healthcare settings across care homes, hospices, children's hospitals, and more recently survivors of brain injury and trauma. As one of the most long-standing strands of its wide ranging participation programme, Sound Young Minds robustly articulates CLS' vision that classical music is transformative and the joy and discovery of it must be wide open to everyone across all areas of society.
Fiona Lambert, Director of Participation at City of London Sinfonia, said: The Sound Young Minds Programme has transformed how we as an orchestra connect with people and make music together, impacting not just our participation programme but also our public performances. As we enter our fourth year, we are excited to have the opportunity to work with the IoPPN to really understand and discover the benefits of classical music on mental health.
Sound Young Minds has been reframed this year in response to the pandemic, with some unexpectedly positive developments prompted by the need to explore the digital potential of the programme. Together, Gawain Hewitt and CLS viola Matt Maguire have developed an in-person + digital hybrid framework for future sessions that combines the use of accessible, online music tools with live improvisation on classical instruments. Beginning later this month, Sound Young Minds will be delivered in the Hospital School and, for the first time, on the wards and Psychiatric Intensive Care Unit at Bethlem Hospital thanks to the introduction of this new digital element, as the programme
In this story