Celebrating The Classical Now
Interrelationships between antiquity and modernity have given rise to a new research project in the Department of Classics at King's during the 2017–2018 academic year.
Ancient Greek and Roman art isn't just confined to the past. It also informs the present – captivating and provoking the modern artistic imagination, some two millennia after its creation. These interrelationships between antiquity and modernity have given rise to a new research project in the Department of Classics at King's during the 2017–2018 academic year.
In a new free exhibition, The Classical Now, King's researcher Michael Squire is hoping to encourage visitors to explore how contemporary art can helps us see classical visual traditions with new eyes. The exhibition includes over fifty artefacts, ranging from antiquities (in marble, ceramic, bronze and mosaic), to works by the likes of Damien Hirst, Louise Lawler, Henry Moore, Grayson Perry, Marc Quinn, Mary Reid Kelley and Rachel Whiteread; The Classical Now also incorporates work by current staff and students at King's, responding to the question 'What does the classical mean to you?'.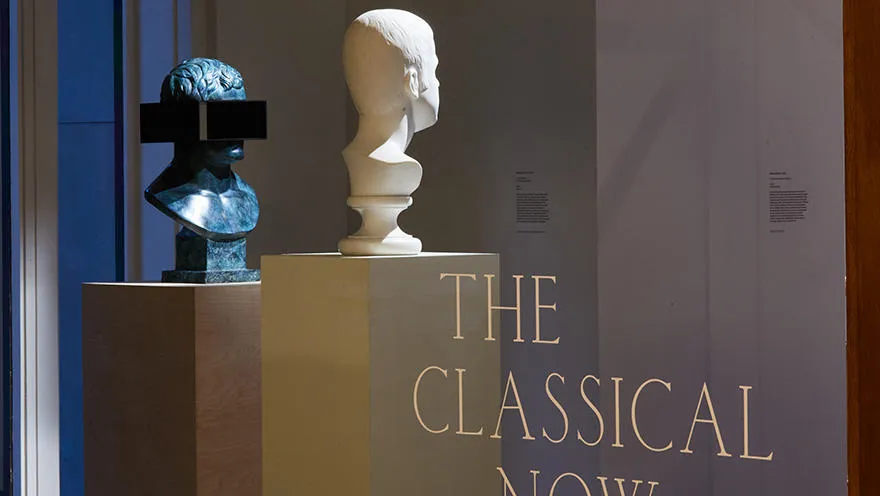 Curated by academics from the Department of Classics alongside the university's specialist Culture team, The Classical Now is staged across two venues: the Arcade at Bush House, and the Inigo Rooms in Somerset House East Wing. The exhibition is open until Saturday 28 April.
Michael Squire, explains how the aim was to spark new sorts of questions. 'The Classical Now is meant as a conversation piece – to stage a dialogue between past and present. By juxtaposing ancient and modern works, we wanted people to rethink both the 'classical' and the 'contemporary' alike.'
The same thinking lies behind the architectural installation that can be seen throughout the run of the show. King's commissioned French artist, Léo Caillard, to dress up the two classicizing statues crowning Bush House. Caillard adorned the statues with T-shirts, glasses and scarves; he also reconfigured the flame between them, bringing it to life in flickering gold.
'Léo's performance piece is called To The Friendship of the Classical and the Contemporary', Squire adds '– adapting the inscription beneath the original statues'. 'It's wonderful that this first major exhibition in Bush House Arcade should pay homage to the classical architectural traditions that inspired the building in the 1920s.'
The Classical Now forms part of a larger research project on 'Modern Classicisms'. It has been co-produced with the Musée d'Art Classique de Mougins (MACM) in southern France, with generous support from Christian Levett. A catalogue, published by Elephant, accompanies the show, and the Faculty of Arts and Humanities has organised a wide-ranging cultural programme. The exhibition has also been timed to coincide with the Association for Art History Annual Conference, which co-hosted with The Courtauld Institute (5–7 April 2018), and which brought almost 1,000 art historians, curators and artists to King's.
Arts & Culture