Driving excellence in stroke care
Our research demonstrated that specialist stroke units help patients survive and recover more quickly – as a result, the services are available across the UK.
Research led by Professor Lalit Kalra
Our research demonstrated that specialist stroke units help patients survive and recover more quickly – as a result, the services are available across the UK.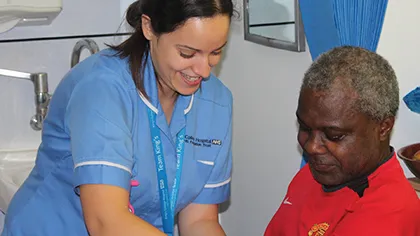 Each year, about 150,000 people in the UK have a stroke.Swift treatment from dedicated stroke teams enables more people to survive strokes than ever before.
Our researchers proved that people are less likely to die and more likely to recover if they are cared for on specialist stroke units rather than on general medical wards.
Their work influenced Government policy and the Department of Health's 2007 National Stroke Strategy stated that 'stroke unit care is the single biggest factor that can improve a person's outcomes following a stroke', leading to the creation of stroke units in hospitals throughout the UK.
Strokes happen when there is a blood clot (ischaemic stroke) or a bleed (haemorrhagic stroke) in the brain. Diagnosing the type of stroke is important to ensure patients get the right treatment. At hyper acute units, people receive expert care, including immediate access to a brain scan to aid assessment and clot busting drugs (thrombolysis), if appropriate. Patients may then be transferred to a stroke unit closer to home for continued treatment and rehabilitation.
Two decades ago, when Lalit Kalra, now Professor of Stroke Medicine, first started investigating the best way to care for stroke patients, all patients were admitted to general medical wards.
'Back in the 1990s there was no specialty called stroke,' he says. Working at King's College Hospital, Professor Kalra realised that many patients on general wards either died or had long-lasting disabilities as a result of damage to the brain caused by the stroke.
'These patients were going nowhere and we wanted to see if we could do something better,' he says. He was involved in establishing a stroke unit staffed by a multi-disciplinary team and says the research was born out of that service. 'We wanted to find out if a specialist unit providing timely care in an organised way, and based on assessment and setting goals, worked.'
Professor Kalra and his colleagues carried out a number of trials that illustrated both the clinical and cost effectiveness of stroke units. They showed that patients cared for on general wards were more likely to die or be institutionalised following a stroke. People cared for on specialist stroke units had fewer complications, were more likely to survive and more likely to return home and regain independence.
Admission to a specialist stroke unit is recommended by in the UK in NICE guidelines, and around the world, including in European and Canadian guidelines.
The latest audit of stroke services by the Royal College of Physicians showed that out of 11,939 stroke patients admitted to hospital between January and March 2013 in England, Wales and Northern Ireland, nearly three quarters of patients were directly admitted to a specialist unit following their stroke, and 96 per cent of patients were treated on a stroke unit at some time during their stay in hospital.
This represents a steady increase in the number of patients receiving specialist care. In 2004, only 46 per cent of patients were admitted to a stroke unit during their stay, rising to 62 per cent in 2006 and 88 per cent in 2010. Furthermore, 56 per cent were admitted to an acute stroke unit within four hours in 2013, compared with just 17 per cent in 2008.
References
Kalra L. et al. A randomised controlled comparison of alternative strategies in stroke care. Health Technology Assessment, 2005; 9(18): iii–x,1
Kalra L. et al. Role of stroke rehabilitation units in managing severe disability after stroke. Stroke, 1995; 26: 2031-4
Patel A. et al. Alternative strategies for stroke care: cost-effectiveness and cost-utility analyses from a prospective randomized controlled trial. Stroke, 2004; 35(1): 196-203
Harraf F. et al. A multicentre observational study of presentation and early assessment of acute stroke. 2002, BMJ 325(7354):17-20
Evans A. et al. Randomized controlled study of stroke unit care versus stroke team care in different stroke subtypes. Stroke, 2002; 33: 449-55
Evans A. et al. Can differences in management processes explain different outcomes between stroke unit and stroke-team care? The Lancet, 2001; 358(9293): 1586-1592
Kalra L. et al. Alternative strategies for stroke care: a prospective randomised controlled trial. The Lancet, 2000; 356(9233): 894-99
Health