Family therapy for adolescents with anorexia
Our researchers pioneered the use of family therapy for anorexia, an intervention that is now recommended across the UK and around the world.
Research led by Professor Ivan Eisler
Our researchers pioneered the use of family therapy for anorexia, an intervention that is now recommended across the UK and around the world.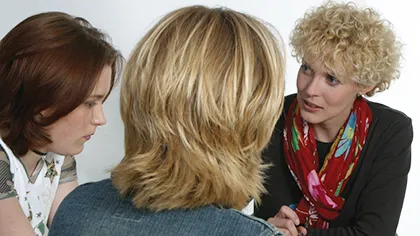 Anorexia nervosa is one of the leading causes of mental health related deaths in the UK and affects approximately 1 in 150 teenage girls in the UK. 40–50 per cent are treated as inpatients for an average four to five months. While this is effective in the short term, relapse rates are high.
Developed by our researchers, and pioneered by them at the South London and Maudsley NHS Foundation Trust (SLaM), family therapy is now the key component of specialist services for teenagers across the UK and in many other parts of the world. 'The aim of the therapy is first and foremost to engage family members as a key resource to help young people fight the illness and regain a healthy weight,' says Professor Ivan Eisler. 'It's not treatment of the family,' he says, 'it's treatment with the family and that's an important distinction. Families can become organised around the illness, so it's about breaking that cycle within a household. Education and information is part of it, but the key thing is helping parents help their child – over a period of nine to 12 months, we meet with them perhaps 20 times to give them practical strategies and help them do what initially seems to them to be impossible. They may come weekly or even twice weekly, then as they begin to get on top of the problem we meet less frequently.' He and other eating disorders specialists at the IoPPN first trialled family therapy for young people with anorexia nervosa in the 1980s: the results of that original trial showed family therapy to be effective for recently diagnosed teenagers still living at home.
This success led to the development of specialist child and adolescent services at SLaM and added to the body of evidence that informed NICE guidelines. Clinical guidelines in countries including the USA, Australia and New Zealand recommend this style of family therapy, which is known as the 'Maudsley Family Therapy Approach', 'Maudsley Family Therapy' or the 'Maudsley Model'.
Professor Eisler and his colleagues have further refined family therapy to help young people with an eating disorder. Since the 1990s, the team has been developing 'multi-family therapy' and young people referred to SLaM's specialist service nowadays may be offered therapy with their family by themselves or with 5-7 other families who find themselves in a similar situation.
Family therapy for anorexia at SLaM has improved recovery rates, and reduced the need for hospitalisation by 50% or more. The specialist service has been used as a template for anorexia services for adolescents around the world, and research has shown that this type of support is better for the individual teenager and more cost-effective.
Over the years, Professor Eisler and his expert colleagues have trained many professionals in eating disorder focused family therapy, both in the UK and abroad. They run London-based training in single and multi-family therapy, but are also invited to train specialist teams 'on-site' all over the world.
References
Eisler I. et al. Family and individual therapy for anorexia nervosa: A 5-year follow-up. Archives of General Psychiatry, 1997; 54 (11): 1025-1030
Eisler I. et al. Family therapy for adolescent anorexia nervosa: the results of a controlled comparison of two family interventions. Journal of Child Psychology and Psychiatry, 2000; 41 (6): 727-736
Eisler I. et al. A randomised controlled treatment trial of two forms of family therapy in adolescent and anorexia nervosa: a five year follow-up. Journal of Child Psychology and Psychiatry, 2007; 48 (6): 552-560
Australian and New Zealand clinical practice guidelines for the treatment of anorexia nervosa. Beumont P et al. Australian and New Zealand Journal of Psychiatry, 2004; 38 (9): 659-670
Eating Disorders: Core interventions in the treatment and management of anorexia nervosa, bulimia nervosa and related eating disorders. National Institute for Clinical Excellence, 2004
Guideline Watch for the Practice Guideline for the Treatment of Patients with Eating Disorders. American Psychiatric Association, 3rd edition, 2012 Institute of Psychiatry, Psychology & Neuroscience
Health