Peer support to overcome trauma
Our researchers developed a peer support system to help people cope after traumatic events, which is now used in the military as well as ambulance and fire services.
Our researchers developed a peer support system to help people cope after traumatic events, which is now used in the military as well as ambulance and fire services.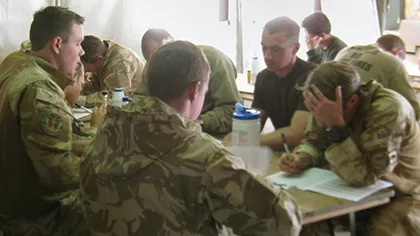 Trauma Risk Management, or TRiM, is a system that enables UK servicemen and women to help their colleagues cope in the aftermath of traumatic events. All three branches of the armed forces have made TRiM part of their routine response to trauma following research carried out by our King's Centre for Military Health Research (KCMHR).
TRiM was first developed in the Royal Marines and then tested in a trial involving 12 of the Royal Navy's ships, led by Professor Neil Greenberg. All three services adopted TRiM after the end of the trial in 2008.
Since then, thousands of volunteer junior managers in the Royal Navy, Army and Royal Air Force have been trained to be TRiM practitioners and the system has been used extensively on operations in Iraq and Afghanistan.
The 2.5 days' training gives volunteers the skills they need to recognise when colleagues are showing signs of stress or struggling after a distressing experience, and the wherewithal to organise support from within the unit – or arrange specialist help for the few people who need it.
'Trauma is an occupational hazard in the Armed Services and stress is an inevitable part of the job,' says Professor Greenberg. 'Most people who are exposed to traumatic events will deal with them, but a small number of people will need extra help.'
The strength of the TRiM system is that it allows people to be identified 'in-house' and be offered peer support in the first instance. 'It's much easier to talk to your colleagues who understand the nature of the job than it is to a counsellor or other mental health specialist who is a stranger,' says Professor Greenberg.
At the heart of TRiM is an informal risk assessment process led by the trained volunteer. A 10-point checklist helps them gauge whether someone may be at risk of developing problems after a traumatic experience. For example, did they feel out of control or blame themselves for what happened? Are they drinking heavily now?
'If people score highly on the checklist, the TRiM practitioner will mobilise extra support within the unit – they might decrease the amount of stress and increase the amount of social support,' says Professor Greenberg.
'The TRiM response is likely to include a senior officer's briefing for the whole unit, to dispel rumours and make sure everyone understands what happened so they can offer appropriate support to colleagues who may be affected. The aim is also to help people understand that their response is normal in the circumstances.'
A follow-up interview takes place a month later to see if an individual is recovering. If someone is still not coping well, they are then encouraged to seek support from mental health professionals in the Defence Medical Services. TRiM is now also used by the London Ambulance Service, various police forces and fire services in England as well as government agencies, the BBC and private companies who have employees who may be exposed to trauma in the course of their work.
TRiM is the only evidence-based peer support programme that can be used in these circumstances. It was the first ever programme designed to support the mental health of the armed forces to be rigorously trialled in the UK military.
References
Greenberg N et al. Trauma risk management (TRiM) in the UK Armed Forces. JR Army Med Corps, 2008; 154 (2): 124-7
Pinder RJ et al, Mental health care provision in the UK armed forces. Mil Med, 2010 Oct; 175(10): 805-10
Greenberg N et al. A cluster randomised controlled trial to determine the efficacy of Trauma Risk Management (TRiM) in a military population. Journal Trauma Stress, 2010 Aug; 23(4): 430-6
Fertout M et al. A review of United Kingdom Armed Forces' approaches to prevent post-deployment mental health problems. Int Rev Psychiatry, 2011 April; 23(2): 135-43
Greenberg N et al, The acceptability of Trauma Risk Management within the UK Armed Forces. Occupational Medicine (Lond), 2011 May; 61(3): 184-9 Frappell-Cooke W, et al. Does trauma risk management reduce psychological distress in deployed troops? Occupational Medicine (Lond), 2010 Dec; 60(8): 645-50
Hunt E, Jones N, Hastings V and Greenberg N. TRiM: an organizational response to traumatic events in Cumbria Constabulary. Occupational Medicine (Lond), 2013 Dec; 63(8): 549-55
Health
Society