Scholarships for the bright stars of tomorrow
Two new scholarships launched by King's hope to encourage and highlight the best and brightest students of the future. King's Scholars of Tomorrow and King's Future Leaders, both introduced by King's English Language Centre (ELC), are awarded to students – incoming to the King's International Foundation course, and Foundation students progressing onto King's – as a recognition of their academic potential
Two new scholarships launched by King's hope to encourage and highlight the best and brightest students of the future. King's Scholars of Tomorrow and King's Future Leaders, both introduced by King's English Language Centre (ELC), are awarded to students – incoming to the King's International Foundation course, and Foundation students progressing onto King's – as a recognition of their academic potential
The 2017 recipients of both scholarships received £1,000 towards the foundation or first year undergraduate tuition fee, and attended a tea ceremony with Principal and President of King's, Professor Ed Byrne.
In awarding such prizes, the King's English Language Centre hopes to instil confidence in students abilities, before they arrive at King's and when they progress onto degree courses.
Lal Ayral, recipient of the King's Future Leader's scholarship, said: 'I think scholarships are important in making students feel more assured about their abilities.' Originally from Istanbul, Lal was a King's International Foundation student, and is now studying Politics, Philosophy and Law LLB at King's.
'I applied for this scholarship because of the recognition I would get – it seemed to me like a 'thanks' from my university because of my success. Importantly, as an international non-EU student, this will help my family,' she added.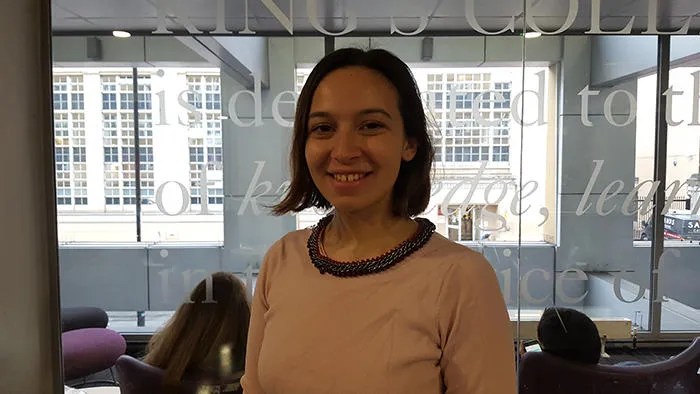 20171207_111036
Iman Sanai, recipient of King's Scholars of Tomorrow scholarship, said: 'I believe that receiving this scholarship really gave me a strong self-esteem boost, something which was valuable to me when starting a new chapter of my life in a new environment.'
Originally from Saudi Arabia, Iman hopes to go on to study Physics at undergraduate level after completing the  King's International Foundation Course. 'My fears about moving to a new country and getting used to a new education system were quelled when I reminded myself that I had already achieved something rather remarkable before arriving,' she added.
Iman-Iman-Kings-Scholars-of-Tomorrow-recipient
The tea ceremony, which took place on 6 November, saw students presented with certificates from the Principal and meet other recipients.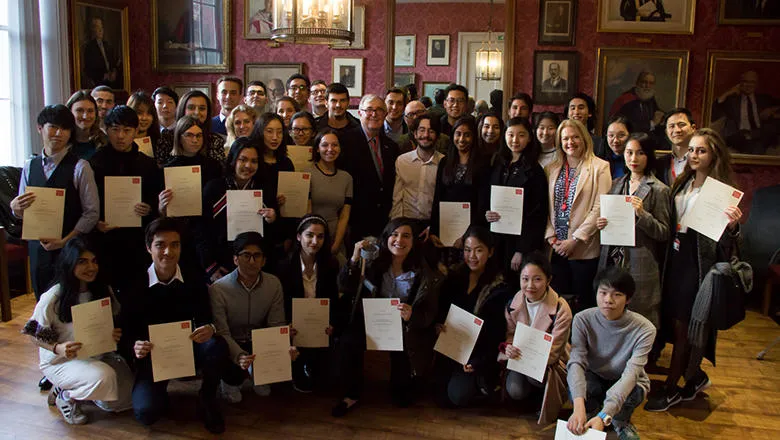 Kings-Scholars-of-Tomorrow
Commenting on the ceremony, Professor Byrne said: 'It was a pleasure to meet the recipients of this year's scholarships. We want to attract the very best minds at King's and will continue to reach out to students with great potential, from diverse social and national backgrounds. Through academic and financial support, we want to ensure that they are all equally able to flourish, something that is a key part of our Strategic Vision 2029.'
The scholarships will be running again for 2018 and applications for the King's International Foundation scholarship are now open. Interested applicants can find more information  here.
About the English Language Centre
The King's English Language Centre has a long history of welcoming international students to King's through academic preparation courses. The King's English Language Centre prepares international students for study in the UK through a range of courses including the King's International Foundation, Pre-sessional English and International Pre-master's. Through these courses, students form a foundation of knowledge and study skills so they can go on to achieve their academic potential, whether at King's or other UK universities.
Law
Society