Stem cells could treat liver disease
Researchers from the Centre for Stem Cells & Regenerative Medicine are taking steps to combat liver disease by using stem cells as a therapy.
Liver disease is set to become the leading cause of premature death in the UK within the next couple of years according to research commissioned by the Lancet in 2017 and the only cure is a liver transplant. However, there are not enough donor organs available to meet these surging demands.
To combat this, researchers from the Centre for Stem Cells & Regenerative Medicine have been investigating the use of stem cells as a potential solution.
In 2011, Dr Tamir Rashid developed the first patient specific liver cells using a technology pioneered by Nobel Laureate Shinya Yamanaka, called induced pluripotency. Induced pluripotent stem cells (iPSCs) are a type of stem cell that are generated by reprogramming adult skin or blood cells into other cell types.
Building on this, Dr Rashid and colleagues have recently taken significant steps towards clinical application of this technology by engineering the iPSC cells into 3D tissue-like structures called 'organoids' using cell lines derived specifically for the purposes of human transplantation instead of those used simply for research.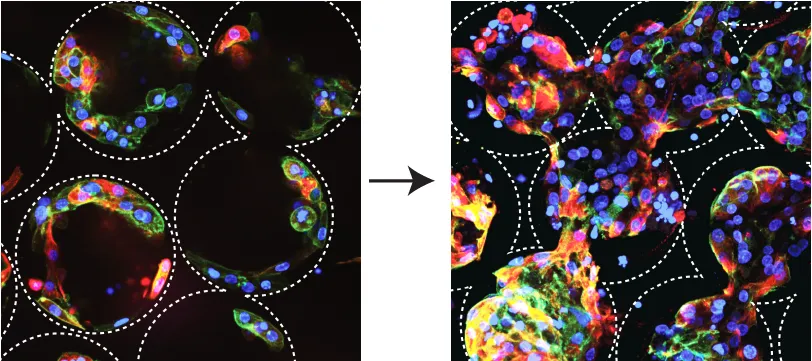 Picture: Stem cells demonstrate the liver organoids building on each other
These findings are significant as the researchers are now in position to build human liver tissue from these cells to help meet the gap in demand of organs for donation.
Dr Rashid said: 'Our next step will be to prove these 3D stem cell derived tissues are safe. If we can show that, we will then begin preparing these exciting new medicines to treat carefully selected groups of patients with my colleagues - Professors Dhawan, Bernal, O'Grady, Heaton and Sanchez-Feuyo - at King's College Hospital whose world leading expertise in this area will be critical to expediting the timely translation of our work.
'If shown to be successful in these first cases, this new source of human tissue could then be applied more broadly to help save the lives of thousands of people who would otherwise die because they are unable to find a donor.'
Delivering the UN Sustainable Development Goals
King's College London has a long and proud history of serving the needs and aspirations of society. We are committed to the UN Sustainable Development Goals (SDGs) as a university, and we use them as a framework for reporting on our social impact. The SDGs are a set of 17 goals approved by the 193 member states of the United Nations (UN) which aim to transform the world by 2030. This research supports SDG 3.
Health