02 July 2019
St Thomas' MedTech Hub: vision and showcase during London Tech Week
This June, as part of London Tech Week, we launched our vision for St Thomas' MedTech Hub.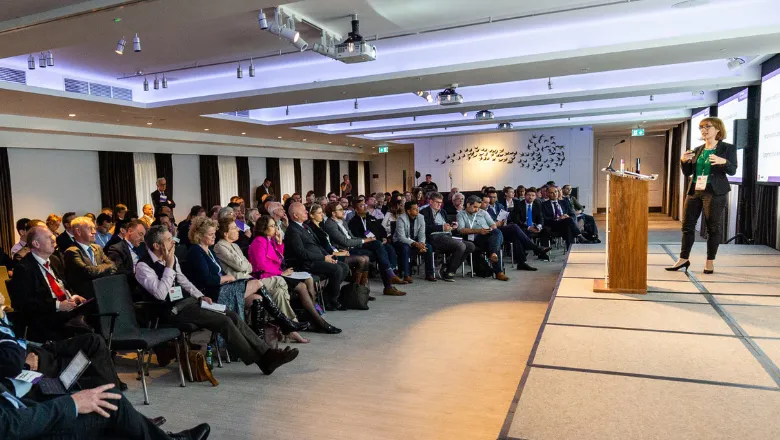 Senior leaders from King's College London, Guy's and St Thomas' NHS Foundation Trust as well as key commercial partners introduced the ambitious endeavour which aims to create an ecosystem where we can translate research into health and economic impact. This will be delivered by facilitating intensive collaboration between sectors on cutting-edge projects which range from novel digital health technologies to life-saving invasive medical devices.
Dr Ian Abbs, the Chief Medical Officer and Deputy Chief Executive of Guy's and St Thomas' NHS Foundation Trust spoke about the necessity of a close-knit community within the MedTech Hub, where the industrial partners will play a crucial role in deploying innovation to patients at speed by shortening the translational gap. The aspiration of this new exciting project places St Thomas' MedTech Hub at the heart of an innovation district that would rival those of Boston and Singapore, said Dr Abbs.
One of the unique features driving this vision is the infrastructure already existent within the School of Biomedical Engineering & Imaging Sciences at King's. Prof Sebastien Ourselin, Head of School, talked about the valuable setting provided by the School, which is defined by the co-location internationally-leading academic research with major healthcare technology industry partners, small and medium size enterprises and startups, within the UK's most research-active NHS Hospital Trust.
He stated: "Very few places in the worlds have 600 engineers, computer scientists and chemists working side by side. Our students being educated in this environment have a different perspective on why they're doing what they're doing. It's not about doing better research but providing better impact."
Professor Reza Razavi also emphasized this point by saying "We have an opportunity to deliver real value and we've created the right infrastructure for companies to join us."
From a key industry partner perspective, sharing the same vision, having ideas that add value, working as a team, striving for excellence, are the crucial elements of a successful medtech collaboration, according to Dr Rebecca Ramb, the Global Head of MR Collaboration Management at Siemens Healthineers. "Being able to share information, share access to people and prototypes is a main reason why we invest here, why we invest in shared R&D."
Furthermore, the support of the local businesses and communities is another key element setting the strong foundation of this project. Mr Nic Durston, Chief Executive of the South Bank Employer's Group talked about the opportunity of welcoming the MedTech Hub as a new transformational wave in the Southbank area; a growth hub that would continue to deliver for the people, drive investments and have the potential to become a significant economic player not only for London, but for the United Kingdom at large.  
The evening event was followed by the MedTech Innovation Showcase, which involved thought provoking talks, live demonstrations and hands-on activities offering attendees the opportunity to interact with the latest developments in healthcare technology. More details about the showcase can be found here.